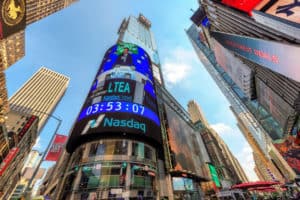 Nasdaq has signed an agreement with the Abu Dhabi Securities Exchange (ADX) to support its launch of a derivatives market later this year.
Under the terms of the agreement, the US exchange will offer technology solutions across matching, clearing and settlement.
ADX said it plans to launch single stock futures and index futures in the fourth quarter, with plans to expand into a broader derivatives product range later in the year, adding that the new marketplace will enhance risk management for investors. The new market will also be accompanied by a central counterparty clearing house (CCP).
"ADX continues to be an industry leader in innovating and evolving the Middle East's capital market ecosystem. By leveraging Nasdaq's robust and flexible technology solutions, ADX can further evolve its endeavours to expand into a leading derivatives marketplace and one of the largest multi-asset marketplaces in the Middle East," said Lars Ottersgård, executive vice president and head of Nasdaq Market Technology.
The news follows a similar launch by the Saudi stock exchange in partnership with Nasdaq in September last year. Tadawul also launched its first derivatives market and a clearinghouse, which are operating on Nasdaq's markets technology with a similar aim of improving hedging tools available to regional and international investors.
"Our commercial relationship with Nasdaq dates to ADX's establishment in 2000, and over the last two decades, we have collaborated on a range of initiatives to ensure investors benefit from efficient market infrastructure technology," said Saeed Hamad Al Dhaheri, chief executiveofficer of ADX.
"We are confident that the launch of a derivatives market will be another important milestone, empowering investors on the exchange who wish to implement sophisticated trading strategies."