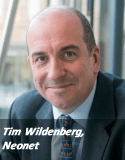 Agency broker Neonet has partnered with trading terminal provider Infront to broaden access to its network.
Infront has over 10,000 European users on its platform, which enables them to access local and international markets with trading solutions, market data feeds, news and analytics technology.
The deal is the latest signed by Neonet, which has been rapidly expanding its connectivity and technology over the past year since Tim Wildenberg, formerly of Citi, took over as its CEO.
Infront terminal users will be able to access Neonet's trading infrastructure, expanding the choice of execution venues for clients as well as adding to its market data services.
Kristian Nesbak, CEO of Infront, said, "We believe the combination of Neonet's independent agency brokerage model with Infront's independent market data, analytics and trading terminal will offer clients a compelling neutral and transparent solution for market data and trading across the Nordic region and beyond."
Neonet will be able to use Infront's desktop front-end to offer its clients a managed market data solution that includes permissioning controls, exchange reporting and compliance functionality.
Wildenberg said the deal marks the latest step in Neonet's growth strategy, adding, "Neonet has positioned itself as a transparent agency broker with a strong smart order router and algo offering combined with a newly launched CSA offering and a broad liquidity access across Europe and North America.
"We believe that this is an attractive value proposition for many buy- and sell-side users of Infront's technology."