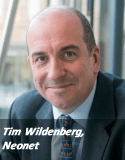 Agency broker Neonet will provide access to Turquoise's Block Discovery service when the solution launches later this month, preparing itself for regulatory changes that will encourage more block trades.
The service aims to increase the probability of anonymous matching in larger sized orders within the platform's randomised Turquoise Uncross system.
The service is being introduced as regulators take a tougher stance on dark pool trading in Europe through MiFID II, paving the way for more block trading and ensuing services. Caps on dark pool trading levels will not affect the large-in-scale pre-trade transparency waiver to encourage greater use of dark pools for institutional block orders.
Turquoise is subsequently looking to capitalise on these changes and draw liquidity to the Block Discovery service.
According to Neonet's chief executive Tim Wildenberg, the kind of service Turquoise plans to offer could represent the future of dark pool trading.
"We have seen similar solutions in the US, and here Turquoise have replicated that model, evolved it a little bit and come up with a service which has the potential to become an important way dark is traded in the future," Wildenberg told theTRADEnews.com.
"The idea is that if you subscribe – when you put the order into Turquoise Uncross – you will also notify the block discovery service that you have put the order in. The service will then listen for the subscribers to the service showing interest in the opposite direction and request they put an order in if there is a likely match." 
The service already has the backing of JP Morgan, Instinet and Bank of America Merrill Lynch, with Neonet the first agency broker to get onboard.
"It is delivering exactly what investors are looking for – a higher quality dark pool more focused on large sized crosses," added Wildenberg.
"It is potentially the future of dark, it is much more blocky and it is an interesting innovation that we are keen to support."