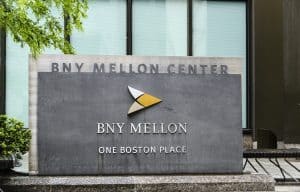 Asset managers are gearing up to outsource their data management to service providers within the next three years, according to a recent survey from BNY Mellon. 
Of the 200 asset management executives interviewed by the investment bank, an overwhelming 97% said that outsourcing their data management infrastructure is a key area of focus. 
In addition, 90% plan to further outsource back-office functions, while 78% expect custodian banks to manage their data operations.   
The survey showed asset managers are also taking a look at which aspects of their middle- and front-office can be supported through outsourcing relationships, as noted by 61% and 41% of respondents respectively. 
"Asset managers are moving away from a 'go it alone' approach to using data for competitive advantage and relying on asset servicers as true partner," said Roman Regelman, CEO of asset servicing and digital at BNY Mellon. "As a result, asset servicing business models are evolving. I see providers becoming orchestrators of modular, flexible solutions and of information across investment processes."
Some asset managers have already tapped data management platforms that have invested heavily in their platforms. In January, Janus Henderson implemented BNY Mellon's global data management platform to consolidate its sources of information and form a unified data architecture.
Around the same time, Vontobel Asset Management adopted the front-to-back outsourcing platform from investment bank State Street to manage its entire trading operations, including investment operations and data services.
"The pandemic has forced asset managers to rethink their operating model. Now more than ever, they recognise the need to digitise and automate as much as they can to reduce risk and improve efficiency," added Irene Speridakos, head of investment managers, asset servicing and digital at BNY Mellon.