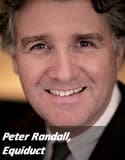 Peter Randall, chief executive of Equiduct, a pan-European retail-focused trading venue, has lambasted the European Commission for failing to adequately reform best execution in the latest draft of MiFID II.
In an attempt to better define best execution, a draft of MiFID II currently circulating in the European financial markets requires execution venues to make available data relating to the quality of execution of its transactions.
This data must be published at least annually and include details about price, speed of execution and likelihood of execution for individual financial instruments.
However, the directive has shied away from more precise definition of what best execution should be, according to Randall, formerly CEO of Chi-X Europe.
"This new level of reporting will not help firms achieve best execution. The Commission has completely missed a trick," said Randall. "Where they could have better defined best execution, they have produced enormously long grass for predators to hide in."
Randall said the directive's treatment of best execution had "dire implications" for competition between trading venues.
"If you own a platform in a vertical silo it will be easy for you to provide MiFID II's version of "best execution' while not providing the best overall price," Randall said.
Under MiFID II, he argued, a trading venue could charge the lowest possible price for executing a trade while charging above market rates for settlement and in theory be providing best execution.
"Your platform would be giving best execution because the trade was cheap but the customer's overall cost would be more expensive," he said, describing the loophole as "a fatal blow for competition".
"It effectively entrenches the control of vertical silos," Randall said.
Taking into consideration the time it will take for MiFID II to pass through the drafting process at the European Parliament and the Council of the European Union prior to implementation, Randall estimated that that Europe could not expect to move closer to best execution before 2015-18.
"This is a cynical dereliction of the proper protection of retail investors in favour of obtuse bureaucratic complexity," Randall said.
The draft document, which has been circulating since last Friday, also requires investment firms to publicly disclose on an annual basis, the top five execution venues used for client orders.
The EC held its first consultation on MiFID II from December 2010 to February 2011. Final proposals were expected to be presented to the European Parliament and the Council of the European Union by the end of Q1 2011 but were delayed.
Most expect the final legislation to be officially presented on 21 October but some have suggested the directive could be delayed for a fourth time until November.