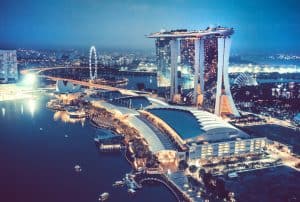 Singapore-based brokerage firm Straits Financial has agreed to distribute the newly-established Trading Technologies' futures platform.
The deal will see Strait Financial's client base gain access to the platform, known as the TT platform, to trade futures, options and cryptocurrencies.
"We are committed to providing the highest level of service and solutions to our growing customer base in the wider Asia/Pacific region," said Susan Quek, head of futures at Straits Financial.
"By partnering with Trading Technologies, we're confident that we're providing the latest and most sophisticated technology for our clients."
Trading Technologies recently confirmed that it will phase-out its flagship futures platform, X_TRADER, this year and will being migrating its clients to the successor TT platform.
The company's chief executive, Rick Lane, said that clients will begin migrating towards the new platform in the fourth quarter this year, with plans to end support across all aspects of the X_TRADER platform by early 2020.
"We're thrilled to bring TT's professional trading tools and enhanced execution services to Straits Financial's customers," said Mark Pottle, regional executive sales director at Trading Technologies.
"Through our partnerships with leading regional brokers, such as Straits Financial, we're further solidifying TT's commitment to the Asia/Pacific region."
Trading Technologies' colocated infrastructure currently spans five continents and offers clients direct market access and trade execution. The firm also provides various tools to accommodate trading strategies and market data services.