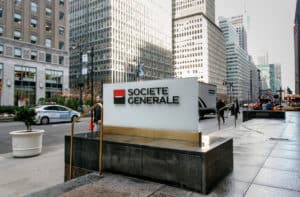 Web-based matching and negotiation platform Wematch has facilitated a Eurex/LCH basis swap transaction, marking the first electronic execution for this type of derivatives trade.
Wematch said the Eurex/LCH basis swap was carried out between Societe Generale and Landesbank Baden-Württemberg (LBBW) on its platform via a tool that aims to help traders manage clearing house risk.
Joseph Seroussi, co-founder and co-CEO of Wematch, added that since the firm launched six months ago, it has delivered 3month/6-month basis curve and flies, Eonia/Euribor basis, gadget swaps and now Eurex/LCH basis. Wematch also a number of banks onboarding to its platform, with 18 currently utilising it for derivatives trading.
"Wematch is delighted to announce the first electronically negotiated Eurex/LCH basis trade between LBBW Stuttgart and Societe Generale. At Wematch, we pride ourselves on being directed by our clients in growth of the platform," he said. "Wematch is a non-hybrid, pure electronic negotiating platform, allowing traders complete control over their prices in the market at a fraction of the cost of conventional interdealer brokers."
Societe Generale is also an investor in Wematch. The French investment bank made a strategic investment in the firm alongside JP Morgan in September last year. Both banks and other major institutions such as HSBC and RBC, also went live with Wematch when it expanded its dealer-to-dealer platform to include euro interest rate swaps in July.
"We are delighted to be partnering with Wematch on this first of its kind swap trade, which is a further illustration of the successful collaboration between our two companies. The inclusion of the Eurex/LCH basis execution capability is one of many examples where they demonstrate their innovation in the derivatives markets," Gareth Hughes, UK head of fixed income and currencies at Societe Generale, concluded.
More recently, Wematch expanded its services to meet demand for trading protocols in exchange traded funds (ETFs) in Europe. The ETFs matching protocol aims to address the evolving complexities of the market, whereby one ISIN can be associated with multiple Sedols (stock exchange daily official list), and can be custodied in more than one location.