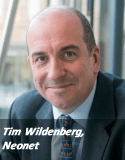 Swedish-based agency broker Neonet has said its turnaround strategy is working well, after making a series of new partnerships and technology advancements over the past year.
The broker had struggled since it was delisted following an acquisition by technology provider Orc Group in 2010.
However, when Orc was bought by private equity investor Nordic Capital in 2012, Neonet was spun out and sold to another consortium of private equity investors.
CEO Tim Wildenberg, formerly head of electronic trading at Citi, was appointed to run the business in summer 2013 when he told theTRADEnews.com he intended to put Neonet "back on the map".
"We've been very busy over the past 18 months, reorganising internally and strengthening our sales team, as well as forging new partnerships and this has contributed to achieving our first break even month and all the signs are positive for the business going forward," he said.
Wildenberg has opted to focus on the firm's core business of providing algorithmic trading and electronic execution while also partnering with other businesses that can offer additional services and functionality that benefit its customers. 
Third-party deals
One such area is commission sharing agreements (CSAs), which are set to become much more important for buy-side firms due to proposed new rules on using commissions to pay for research as part of MiFID II.
Last month, Neonet struck a deal with Commcise to provide CSA services to its clients.
Wildenberg explained, "The CSA game has become more intense, so we stepped up our game with our partnership with Commcise. Clients particularly like that it's effectively an interoperable solution that can used with other brokers to help standardise the way they deal with CSAs."
He added, "The UK has been leading the way on unbundling research and commissions but it has generated a lot of debate in the Nordic region and people are coming round to this new, more transparent way of paying for research."
The firm is also broadening the connectivity it provides to clients by providing access through other execution management systems (EMS).
"We've been working to broaden our reach. In the past we have relied heavily on our own EMS the Neonet Trader, which is a great product but as a firm we have not been connected as many of the other EMSes in the market. Now we're widening the connections available to our client base as well as making sure we have access to all the latest features being developed in the EMS space," Wildenberg said.
The firm has also opted to bring in a third-party to provide transaction cost analysis, LiquidMetrix. Wildenberg said the partnership is enabling Neonet to reduce its standard deviation and achieve better execution more of the time.
Trading beards for moustaches
Lastly, Neonet is taking part in Movember this month, an annual event where men (and women) grow moustaches in order to raise money and awareness of prostate cancer and depression among men.
While persuading Swedes to trade their beards for moustaches was a challenge for Wildenberg, over half the Neonet office are taking part and are currently ranked third in Sweden, having raised over €5,000 for the Movember Foundation.
To view Neonet's gallery of impressive hairy upper lips and donate, you can visit its Movember fundraising page HERE.