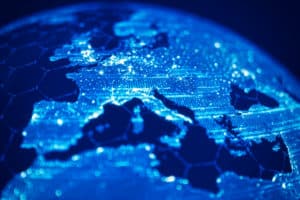 Symphony has appointed its president and chief commercial officer, Brad Levy, to replace chief executive and founder, David Gurlé, as he steps back from the day-to-day running of the company.
Former Goldman Sachs veteran and current president and chief commercial officer at the messaging systems specialist, Levy, will become chief executive officer on 1 June after joining the firm less than a year ago. 
He will take over from Gurlé who is stepping away from the helm to assume an advisory role on the company's board of directors. 
Gurlé, who founded Symphony in 2014, has spearheaded the company as chief executive officer for the last six and a half years, raising more than $510 million in funding and growing the company into a financial community of over half a million that powers over 2,000 applications and bots. 
"When I founded the company in 2014 and secured the initial funding, we wanted to fill an important gap for a secure and compliant collaboration platform for financial services firms and be a true digital transformation partner for our customers," said Gurlé. 
"I have worked closely with Brad for many years, and I am very confident the company is in great hands under his leadership. His financial markets expertise and network is second to none." 
Levy joined Symphony in July last year from IHS Markit where he had previously served for eight years, most recently as chief executive officer of the company's derivatives arm, MarkitSERV.
Prior to joining IHS Markit, Levy spent nearly 18 years at US investment bank Goldman Sachs, most recently as managing director and global head of principal strategic investments for six years.
"I want to thank David, the whole leadership team and every Symphonian for their great work in building the company from the ground up," said Levy.
"The deep market expertise of our people is allowing us to tackle true pain points in markets' workflows. From on-boarding and transaction exception management to low code development, we are building or partnering with other innovative FinTechs as we become networked market infrastructure."