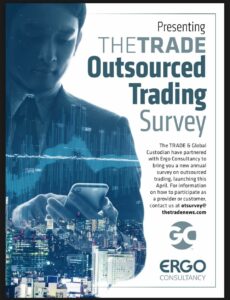 The TRADE and Global Custodian have jointly launched a new survey on outsourced trading in partnership with Ergo Consultancy to gather industry sentiment and service provider ratings in a flourishing segment of the market.
With broker-dealers, prime brokers and custodians alike investing heavily in offering outsourced trading units – alongside smaller, independent outfits – buy-side firms are increasingly turning to these services amid an environment of rising cost pressures and increasing market complexity together with a desire among to focus on their core strengths.
As a result, many are outsourcing coverage of certain regions or asset classes, while some outsource their entire trading operation, depending on firm size and goals.
 A report by Coalition Greenwich last year found that the number of providers in this space has increased more than fourfold in the last five years, growing from fewer than 10 to more than 40 from 2018 to 2022.
The TRADE with its front-office audience, and Global Custodian with numerous chief operations officers among its readers, have come together to ask their communities to rate their service providers to gain detailed insight on the sector and to help clients – both existing and prospective – differentiate the services on offer. 
The survey was created in collaboration with Ergo Consultancy – a specialist firm advising asset managers and hedge funds on all aspects of trading and execution across asset classes – and incorporating industry feedback. The questions cover a comprehensive range of services and capabilities offered by outsourced trading firms. 
"We've been running surveys across Global Custodian and The TRADE for decades with some of our flagship areas of research dating back to the 1980s," said Jonathan Watkins, publisher, Global Custodian and The TRADE. "Outsourced trading is a rapidly growing space which impacts readers on both our publications, from the traders to the operations heads and beyond. We're delighted to launch this survey in partnership with Ergo Consultancy to gain a deeper insight into this sector, identify trends in the coming years and provide our audiences with a comprehensive analysis of the providers in the space." 
The survey is now live and respondents can rate their providers through this link. Providers have the opportunity to add themselves to our dropdown list of organisations to rate by contacting our team at otsurvey@thetradenews.com and can complete a provider questionnaire form here to add colour to their own service. 
Results of the survey will be published in both The TRADE and Global Custodian third quarter magazines and on both websites.
David Berney of Ergo Consultancy said: "The outsourced trading market has grown from a niche 20+ years ago to a mainstream business now. Ergo has been active in helping firms select the most appropriate providers for well over a decade and havee watched the industry and the breadth of its offerings grow exponentially. We are delighted to be part of this survey process and we look forward to it becoming as much a part of the landscape as Global Custodian's agent banks survey, and the TRADE's Algorithmic Trading and EMS surveys."