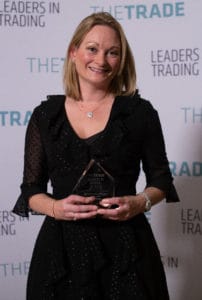 The TRADE is delighted to announce the winners at this year's Leaders in Trading awards ceremony, held at The Savoy, London.
With 34 awards across the buy-side, editors' choice, and algorithmic trading and EMS categories, The TRADE was joined by over 250 industry leaders to recognise the year's leading individuals and firms within the industry.
Nominations for the Buy-Side Awards were open to the industry and The TRADE received over 750 votes across the six award categories. This year, Cathy Gibson of Royal London Asset Management and Trevor Dobson of Marshall Wace were named trader of the year for long-only and hedge funds respectively.
The trading desk of the year award went to T. Rowe Price, while Hermes Investment Management, JP Morgan Asset Management, SEB Investment Management collected respective trading desk awards for mid-cap, emerging markets and multi-asset.
David Miller, head of European equity trading at Invesco, was awarded the prestigious lifetime achievement award for the buy-side, in recognition of this experience and contributions to the industry.
The Editors' Choice category are always highly contested awards and this year proved no different. Across the 16 awards, this year's winners – as judged by The TRADE's editorial panel – were all worthy winners.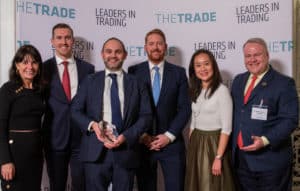 Cboe Global Markets walked away with the outstanding global exchange group award and the outstanding block trading venue award, while London Stock Exchange regained their title for outstanding equities trading venue and Eurex retained the outstanding derivatives trading venue award.
Tradeweb's co-founder and chief executive, Lee Olesky, was awarded with the Editors' Choice lifetime achievement award as the fixed income venue celebrated its successful initial public offering earlier this year.
There were three new award categories introduced this year under Editors' Choice: Outstanding sell-side trading house, outstanding electronic liquidity provider and digital initiative of the year, won by Goldman Sachs, Citadel Securities and Barclays Investment Bank (BARX), respectively.
In the technology arena, Bloomberg once again claimed the award for outstanding market data provider, while newcomer big xyt collected the outstanding TCA provider award and Mosaic Smart Data were crowned FinTech of the year, in the Instinet-sponsored award.
Within the Algorithmic Trading & EMS categories there were several firms that took home multiple awards, which are based on the results of The TRADE's annual surveys. Bernstein were awarded the algo overall outperformer and also collected the best access to market and best user experience awards, while Portware, A FactSet Trading Solution won EMS overall outperformer, in addition to the best product consistency award.
Prior to the Leaders in Trading awards dinner, The TRADE also recognised this year's Rising Stars of Trading and Execution, 20 of the buy-side's up and coming talents of the future.
The photo gallery for Leaders in Trading 2019 winners can found here.
Congratulations to all of this year's winners:
| | |
| --- | --- |
| Algorithmic Trading Awards | Winner |
| Best trading performance | Exane BNP Paribas |
| Best access to market | Bernstein |
| Best customer support & consulting | Jefferies |
| Best user experience | Bernstein |
| Best price improvement capabilities | Exane BNP Paribas |
| Overall outperformer | Bernstein |
| EMS Awards | Winner |
| Best product consistency | Portware, A FactSet Trading Solution |
| Best product adaptability | Virtu Triton |
| Best customer support | Instinet Newport |
| Overall outperformer | Portware, A FactSet Trading Solution |
| Editors' Choice Awards | Winner |
| Outstanding equities trading venue | London Stock Exchange |
| Outstanding fixed income trading venue | Tradeweb |
| Outstanding derivatives trading venue | Eurex |
| Outstanding foreign exchange trading venue | Refinitiv FXall |
| Outstanding block trading venue | Cboe LIS |
| Outstanding global exchange group | Cboe Global Markets |
| Outstanding sell-side trading house | Goldman Sachs |
| Outstanding electronic liquidity provider | Citadel Securities |
| Outstanding market data provider | Bloomberg |
| Outstanding clearing provider | Eurex Clearing |
| Outstanding TCA provider | big xyt |
| FinTech of the year (Sponsored by Instinet) | Mosaic Smart Data |
| Best compliance technology | Nasdaq |
| Innovation in EMS | FlexTrade |
| Digital initiative of the year | Barclays Investment Bank – BARX |
| Market structure excellence (Sponsored by Plato Partnership) | Tom Stenhouse |
| Lifetime achievement | Lee Olesky |
| Buy-Side Awards (Sponsored by London Stock Exchange & Turquoise) | Winner |
| Emerging markets trading desk of the year | JP Morgan Asset Management |
| Mid-cap trading desk of the year | Hermes Investment Management |
| Multi-asset trading desk of the year | SEB Investment Management |
| Trading desk of the year | T. Rowe Price |
| Trade of the year (hedge fund) | Trevor Dobson |
| Trader of the year (long-only) | Cathy Gibson |
| Lifetime achievement | David Miller |