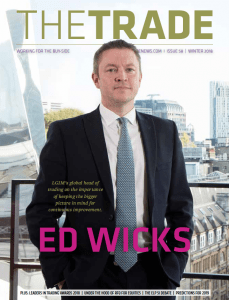 The latest issue of The TRADE is now available to read online, so now that the festive season is drawing to a close and the New Year is almost upon us, dive into all the best content from the Winter 2018 issue:
Buy-side cover interview – Three years after joining Legal & General Investment Management to run its equities trading, Ed Wicks now heads up the firm's global trading operations, placing emphasis on the benefits of incremental improvement. Wicks speaks to John Brazier about the changes he has made during his time with the asset manager and what the future holds for the head of trading role.
Leaders in Trading 2018 – The biggest trading awards evening of the year 250 of the industry's finest celebrate the achievements of the buy- and sell-side over the past year. We bring you the highlights and winners of the evening.
Fixed Income Leaders Summit 2018 – In November The TRADE made the short flight from London over to Amsterdam for the Fixed Income Leaders Summit 2018, a two-day conference replete with the cream of European fixed income market participants. The TRADE presents the best of its coverage from the event.
The big interview – Jos Djisselhof details how the first year of his stewardship of SIX has played out, reorganising the business and why the SIX Digital Exchange could be a gamechanger for the industry.
Request for quote in equities: Under the hood – As two major trading venues launch request for quote (RFQ) models for equities trading, Hayley McDowell delves into the specifications of each RFQ systems, and after speaking to sceptical senior buy-siders, finds that the venues could face significant barriers to market-wide adoption.
The ELP SI debate – As the industry continues to adapt following the implementation of MiFID II, Hayley McDowell sits down with Ben Springett from Jefferies, Matthew McLoughlin of Liontrust Asset Management, and Jonathan Finney from Citadel Securities, to discuss how the buy-side and brokers are interacting with market maker systematic internalisers.
Wall Street goes to war on market data and access – A roundtable hosted by the SEC with high-profile market participants highlighted just how divided Wall Street and regulated exchanges are on the issue of market data and access to exchanges, writes Hayley McDowell.
What to expect from 2019 – The TRADE canvassed a range of cross-industry participants to find out what they believe will be top of the agenda for the coming year.
The 2018 APAC algorithmic trading survey – The trend of improved performance for APAC algorithmic trading shows no sign of slowing down according to this year's survey.