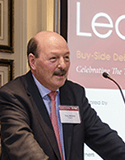 Last night saw the very best in the industry honoured at The TRADE's annual Leaders in Trading awards ceremony at the Savoy Hotel in London.
The event saw lifetime achievement awards handed out to two of the most recognisable figures in the business.
On the buy-side, Tony Whalley, head of derivatives and equity dealing at Scottish Widows, was awarded for his work as a non-executive director of BATS Chi-X Europe, where he has advocated best practice in trading, in addition to his work with Investment Management Association and London Stock Exchange institutional advisory groups.
The sell-side lifetime achievement award went to Seth Merrin, CEO and founder of Liquidnet, who has spent his career innovating on behalf of the buy-side. He set up Liquidnet in 1999, which today provides block trading capabilities to over 700 asset managers and has continued to evolve the offering with the recent acquisition of fixed income specialist Vega-Chi.
Prior to the ceremony, buy-siders got together to discuss key industry issues in two board room sessions, details of which will be published in the Q4 2014 issue of The TRADE magazine.
The TRADE would like to thank everyone who took part in the awards and our sponsors, London Stock Exchange Group, ITG, Linedata and Macquarie.
See below for the full list of award winners.
The Hall of Fame 
Buy-side lifetime achievement – Tony Whalley 
Sell-side lifetime achievement – Seth Merrin
Outstanding trading venue – BATS Chi-X Europe
Outstanding TCA provider – ITG
Outstanding market data provider – Markit
Outstanding technology vendor – Linedata


Buy-side Awards
Buy-side trader of the year – Michael Bellaro, Deutsche Asset and Wealth Management
Buy-side mid-cap trader of the year – Matt Tonge, Liontrust Asset Management
Buy-side trading desk of the year – AXA Investment Managers 
Buy-side multi-asset desk of the year – Candriam Investors Group
Buy-side project of the year – FIX Trading Community    
Buy-side post-trade project of the year – Franklin Templeton Investments


Algorithmic Trading Awards
Leading overall provider (long only) – J.P.Morgan
 Reducing market impact (long only) – J.P. Morgan
Reducing market impact (hedge funds) – UBS
Execution consistency – Morgan Stanley
Dark pool access – ITG
Price improvement (long only) – UBS
Price improvement (hedge funds) – Goldman Sachs
Smart order routing – Bank of America Merrill Lynch 
Ease of use (long only) – Deutsche Bank
Ease of use (hedge funds) – Morgan Stanley
Crossing – Liquidnet
Trader productivity (long only) – Credit Suisse
Trader productivity (hedge funds) – Instinet 
Costs and commissions – Goldman Sachs
Customer support – Bloomberg Tradebook
Anonymity (long only) – Citi
Anonymity (hedge funds) – J.P. Morgan
Speed and latency (long only) – Barclays
Speed and latency (hedge funds) – Bank of America Merrill Lynch 
Customisation – ITG
Execution consulting – Bank of America Merrill Lynch