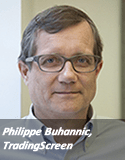 TradingScreen has become the latest entrant in the competitive fixed income electronic trading space, launching what it calls the first "buy-side designed" trading platform for corporate bonds.
The technology specialist has been working with a group of large asset managers to develop TradeCross, which will provide trading across the credit market.
TradeCross is based upon the technology of TradingScreen's Galaxy multilateral trading facilitity and will enable firms to trade confidentially with other market participants. It aims to reduce market impact, particularly during times of market stress.
The firm said the new trading platform is a response to a liquidity crisis currently facing the fixed income market as sell-side institutions that have traditionally provided liquidity to institutional investors have withdrawn.
"Fixed income is facing tremendous odds in its core trading infrastructure: all-time high issuance, creation of new emerging markets, evaporating liquidity, scarce intermediating capital, lack of solid electronic infrastructure, an outdated trading model, and absence of definitive best execution methodology," explained Philippe Buhannic, CEO of TradingScreen.
"All of these factors make the Fixed Income portfolio management and trading seriously limited compared to the sophistication of other assets classes that have embraced change earlier."
Nordea Investment Management is among the buy-side firms that have worked with TradingScreen to develop TradeCross, and the initiative has been chaired by its head of fixed income trading, Brett Chappell.
Like many buy-siders, we are researching additional channels to complement the current coverage model in order to locate and execute trades efficiently," said Chappell.
"The TradeCross approach is innovative and makes it a viable partner for our needs."
The platform will be officially launched at TradingScreen's fixed income forum in Paris on 19 November.
TradeCross is one a number of new trading platforms targeting the fixed income space at present. Recently, BondCube, which is offering an all-to-all trading model for bonds, received regulatory approval to launch its platform from the UK's Financial Conduct Authority. Additionally, Liquidnet plans to launch fixed income trading in Europe next year based on its blotter scrubbing technology following its acquisition of trading platform Vega-Chi earlier this year.