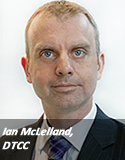 TriOptima, the post-trade business owned by interdealer broker ICAP, and the Depository Trust and Clearing Corporation (DTCC) have gone live with a joint reconciliation service in attempt to resolve a continuing problem of trades being unmatched at Europe's repositories. 
The service enables clients to use TriOptima's portfolio reconciliation service, triResolve, for over-the-counter (OTC) derivatives trades reported to the DTCC's trade repository, as required under the European Market Infrastructure Regulation (EMIR).
Under the rules, swap dealers and end-users are required to report their transactions to repositories either directly or through a delegated third party. 
The new connectivity allows market participants to compare and match DTCC trade records with their internal trade records. 
"We will continue to work with the industry, the regulatory community and our third party providers to promote greater common standards which will continue to improve the transparency and risk mitigation in the derivatives markets," said Ian McLelland, CEO of DTCC's European trade repository.
Having the ability to match trades between counterparties and identify any discrepancies in the report has become a priority for the market. This is because there has been a lack of guidance from Europe's regulatory authority on the unique trade identifier (UTI), an alphanumeric code designed to enable repositories to pair trades.
"Implementing this connectivity enables firms to use triResolve to efficiently verify data in the repositories," said Raf Pritchard, CEO of triResolve. "This is an important tool to ensure accuracy of data in the repositories, a key regulatory goal."