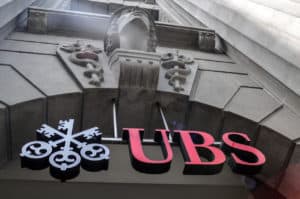 UBS has released its latest set of quarterly earnings, reporting a net profit of $1 billion, down by 52% compared to the same period last year.
The bank reported total revenues of $8.7 billion, down 7% from Q1 2022, which UBS attributed to negative foreign currency effects.
UBS's investment banking division also saw declines, with total revenues standing at $2.3 billion, down 19% compared to the same period last year.
Within the division, global markets revenues were $2 billion, down 17% year-on-year – with equities revenues declining by 23% to $1.3 billion and foreign exchange, rates and credit revenues up slightly (1%), totalling $658 million.
UBS's decline in equities revenues echoes similar results seen by its peers, with Goldman Sachs, Bank of America, Morgan Stanley and Citi all reporting declines within the sector.
Read more: Goldman Sachs, Bank of America and Morgan Stanley latest to report decline in equities
The investment banking division at UBS reported an operating profit before tax of $477, nearly halving (a decline by 49%) year-on-year.
UBS's asset management division reported a total revenue of $502 million and an operating profit before tax of $94 million, down 13% and 24%, respectively, compared to Q1 2022.
Despite declines in total revenues and profits, group CEO at UBS, Sergio Ermotti, spoke positively about the quarter, stating: "Our solid underlying performance and strong inflows this quarter demonstrate that we continue to be a source of stability for our clients during periods of significant uncertainty. Our balance sheet for all seasons and a diversified and capital-generative business model allowed us to be part of the solution in a critical moment for the Swiss and global financial systems."
Subject to conditions, including approvals or non-objection by regulatory authorities and relevant competition authorities, UBS is set to acquire Credit Suisse following a merger agreement on 19 March 2023.
Read more: UBS' Credit Suisse takeover: what you need to know
"We expect the combination with Credit Suisse to strengthen our position as a leading and truly global wealth manager, with around $5 trillion in invested assets. We also expect to reinforce our position as a leading universal bank in Switzerland and to enhance our complementary investment banking and asset management capabilities, while adding strategic scale in the most attractive growth markets," said UBS in its earnings report.