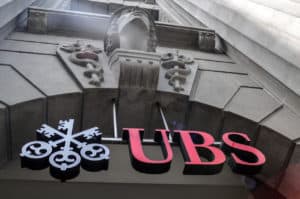 UBS has beaten expectations for the first quarter of this year on the back of strong performance across its global wealth management business and investment bank, driven by recovery from the Archegos fallout in 2021
Net profit attributable to shareholders reached $2.136 billion, up 17% from the same period last year.
Profits were driven by a strong performance in both  the investment banking business and its global wealth management business. However, it was investment banking that saw the sharpest rise for this quarter, driven by a 59% year-on-year increase in its global markets division.
A large contributing factor to this was last year's prime brokerage losses of $774 million linked to the fallout out of family office, Archegos.
"Excluding the loss on the default of a prime brokerage client in 1Q '21, global markets revenues increased by 4%, primarily driven by higher income from equity derivatives, rates and foreign exchange products," said UBS' chief financial officer, Kirt Gardner, on the bank's earnings call.
The bank attributed its increase in operating income – which rose by 8% to $9.363 billion in comparison with last year – to recovery from its losses associated with the fallout.
Global banking – also sitting within its investment bank – saw comparatively low results, falling 30% in comparison with last year to $550 million.
"Concerns about inflation in the monetary policy response, along with Russia's invasion of Ukraine, weighed on investor sentiment," added Gardner.
Capital markets revenues also decreased by 41% on the back of subdued issuance and deal flow in the equity capital markets.
Net profits rose 58% in comparison with the fourth quarter of last year, largely attributable to the bank's continued commitment to reducing its exposure to Russia following its invasion of Ukraine. The bank confirmed it has reduced exposure to $0.4 billion as of the end of March in comparison with $0.6 billion at the end of last year.
It also confirmed that it was not conducting any new business in Russia or with Russia-domiciled clients.
"The first quarter of '22 was dominated by extraordinary geopolitical macro events as a result of Russia's invasion of Ukraine," said UBS chief executive, Ralph Hamers, in the earnings call.
"And during these turbulent times, we've remained focused on three key priorities: executing our strategic plans, serving our clients and managing risk. We once again proved the benefits of our global scale and the power of our ecosystem for investing, and we're working hard to enhance it every day."