UBS took away the most awards at The TRADE Awards 2013 last Thursday, which also saw buy-side excellence recognised for the first time.
This year, The TRADE has acknowledged excellence and innovation among buy-side traders who have been working tirelessly to provide greater value to their end-investors.
Bill Stephenson, director of global trading strategy at Franklin Templeton Investments, took away the award for buy-side project of the year for his work developing an investment dashboard to provide dealers with market and unstructured data to inform their trading decisions in a timely manner.
Barings Asset Management's global head of dealing, Adam Conn (pictured above), won buy-side trader of the year for his work on implementing a new execution management system, developing his firm's algo and fixed income work and for his efforts on FIX's EMEA buy-side working group, developing standards for the industry.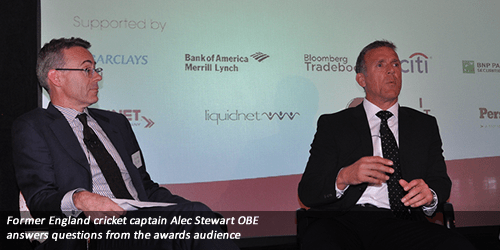 On the sell-side, major recognition was achieved by UBS, which took away three awards for its algorithmic trading tools and one for control over toxic flow in its dark pool. Other major winners included ITG for its algorithms and dark pool and Morgan Stanley, which excelled in both speed and trader performance improvements offered by its algorithm suite.
The awards ceremony, held at The Savoy in London, also played host to the latest TRADE Agora, held in association with Pershing and BNP Paribas Securities Services and hosted by Richard Balarkas, looking at the benefits and pitfalls of outsourcing vital trading functions for both buy- and sell-side firms.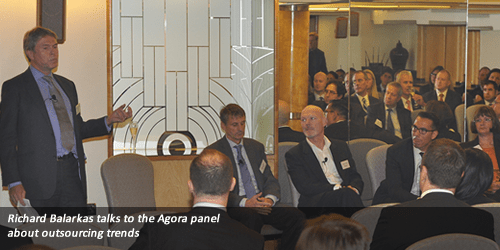 "It looks like the days of there being sacrosanct areas of business are no longer, with all cost drivers being scrutinised," said Balarkas. "Recent announcements at Sibos regarding collaboration in the area of 'know your customer' (KYC) and client documentation are an example of how firms are seeking to remove duplicated cost from around the industry."
The Sibos conference in Dubai earlier in September saw HSBC's CEO, Samir Assaf, has called for the whole banking industry to cooperate to create a consolidated KYC facility.
With both buy- and sell-side under pressure to keep a lid on costs, more and more are looking to outsource, but are worried about the impacts it could have on their business.
Speaking on the Agora panel, Huw Rees, head of UK & Ireland broker dealer client management, BNY Mellon, said: "Both the buy- and sell-side are having to look at their whole value chain, from front to back, and find areas where they can make savings.
Clare Vincent-Silk, principal at consultancy Investit, said: "There are a lot of pressures on fund managers, both on the cost front and from the regulators. Margins are squeezed, and they need to generate efficiencies but they struggle with the idea of losing control of parts of their business."
Looking more to the sell-side, Steve Grob, director of group strategy at technology provider Fidessa, said getting firms to realize that they don't need ownership over every aspect of their business was a key challenge in convincing them to oursource.
"You don't need to ownership over every single gateway into an exchange," he said.
Panellists agreed that regulators will also be keeping a close eye on the outsourcing market to ensure end investors do not lose out as a result.
 "If you're outsourcing and things go wrong, the regulator will still look to the buy-sider to put things right," said Julien Kasparian, head of UK sales at BNP Paribas Securities Services. "You need to know you have a strong partner, because if your outsourced contractor goes bust then you will be on the hook with the regulator."
While some market participants on both sides are likely to be cautious about outsourcing key parts of their business, panelists observed that the need to cut costs and deliver high-quality services to clients means outsourcing is set to be a growth area for years to come.
The full list of The TRADE Awards 2013 winners can be found below:
Algorithmic trading
Improving trader productivity - Instinet
Improving trader productivity (hedge funds) – Morgan Stanley
Ease of use – Bank of America Merrill Lynch
Internal crossing - Citi
Customisation - UBS
Reducing market impact - Liquidnet
Reducing market impact (hedge funds) – Credit Suisse
Consistency with pre-trade estimates - ITG
Speed - UBS
Speed (hedge funds) – Morgan Stanley
Execution consistency - UBS
Cost and commissions – Bloomberg Tradebook
Price improvement – Sanford C Bernstein
Price improvement (hedge funds) – JP Morgan
Anonymity – Bloomberg Tradebook
Leading clients – Goldman Sachs
UK and European clients – Deutsche Bank
Asian clients – Instinet
Ones to watch
Highest scoring – Jefferies
Scale of business – Macquarie
Dark pools
Control over toxic flow – UBS
Price improvement - ITG 
Smart Order Routing
Quality of execution prices – Barclays
Execution management systems
Best global execution management system – Bloomberg EMSX
Buy-side awards
Buy-side project of the year - Bill Stephenson, Franklin Templeton Investments
Buy-side trader of the year – Adam Conn, Baring Asset Management