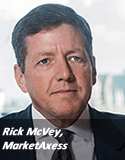 MarketAxess has seen its revenues rise 10% year-on-year, boosted by strong performance in its post-trade and data services.
The fixed income electronic trading specialist recorded record fourth quarter revenues last year of $70.2 million, bringing full year revenue for 2014 to $262.8 million.
Commissions revenue increased by 8.5% to $221 million, while information and post-trade services sales climbed from $25.4 million in 2013 to $31.5 million last year, a 24% rise. The growth in income in the segment was primarily driven by the impact of the firm's acquisition of Xtrakter, a fixed income information provider, in early 2013. Xtrakter was rebranded as part of the integration with MarketAxess and is now known as Trax.
However, the fourth quarter saw particularly strong growth in commissions, which increased 20% from $50.45 million in Q4 2013 to $60.37 million in the same period of 2014.
The company attributed this to increased volatility in credit markets in the fourth quarter.
"Higher credit market volatility during the quarter caused an increase in overall credit market volumes," said Rick McVey, chairman and CEO of MarketAxess. "It was gratifying to see the increase in estimated market share and the growth of Open Trading activity on MarketAxess during this period of greater market volatility."
McVey added that he expects the business' European operation to grow strongly during 2015, after the firm announced it will launch its Open Trading solution, which offers all-to-all trading of corporate bonds to market participants including the buy-side, in the European market this year.
All-to-all trading has become increasingly popular as banks begin to withdraw from holding significant fixed income inventory as a result of regulatory pressures.
However, MarketAxess is facing stiff competition from a number of new entrants that are hoping to capture buy-side fixed income liquidity on their own electronic trading platforms.