Explaining complex trading concepts, such as dark pools and high-frequency trading, to senior managers and clients can prove equally as challenging as accessing liquidity, according to buy-siders at the Leaders in Trading event in London last week.
A session titled 'Meeting Future Liquidity Challenges', sponsored by ITG, brought together key buy-siders to consider how high-frequency trading (HFT) and MiFID II are likely to affect their ability to access liquidity.
However, often it is explaining the many concepts around these market structure issues that can prove the real challenge for trading desks.
Mass media attention that has been drawn to the issue of HFT following the publication of Michael Lewis' 'Flash Boys' earlier this year and has resulted in heads of trading being asked more questions by their clients and bosses about what they do to mitigate the impact of HFT on their execution.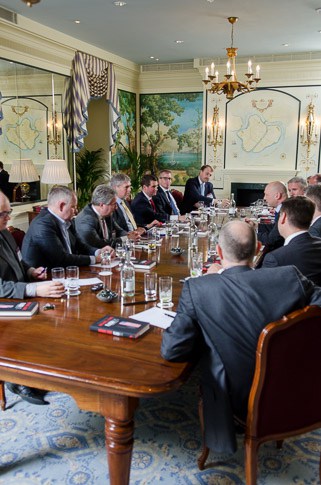 As one buy-sider at the event said: "I've had to explain to management and clients that not all HFT is bad, and often it can provide a very useful source of liquidity."
The traders present were, unsurprisingly, all well aware of the potential pitfalls of HFT and have been for many years, and were frustrated other parts of their business did not fully understand it. One example included the recent squeeze in the US government bonds market, which some had attributed to HFT, but traders at the table agreed it was largely due to a lack of inventory in the banks since the collapse of Lehman Brothers.
Another area where traders are frustrated by a broad lack of understanding is dark pools, which have often been incorrectly labeled as some "bad" due to their name.
"Trustees don't understand dark pools or other aspects of the trading desks, this means you're often managing upwards and you need to try and educated them," said one senior trader, "but we've had years to get our heads around dark pools but it can be difficult to get to grips with these concepts quickly for those who aren't dealing with them every day."
Others highlighted that pro-actively feeding back on evolving market issues to managers and clients can often be met with a lack of interest until things blow up in the press. For example, when Barclays' US dark pool was accused of misleading its customers, senior management suddenly became interested in how their desks used dark pools despite previous indifference.
As the discussion drifted onto how the buy-side can effectively source block liquidity in the post-MiFID II world, feelings were mixed.
There was a general feeling that European markets still face major structural issues that are unlikely to be resolved by the new regulations. For example, European trading volumes remain minute compared to those in the US, and capping dark trades will do nothing to improve it, attendees warned.
The buy-side were also worried that there has already been talk of a MiFID III, with one trader saying, "Every 10 years politicians are setting new rules with absolutely no scientific basis to them. It's not very helpful and it's something that needs to be properly debated."
There was also anger that many EU politicians had privately admitted that the dark pool volume caps in MiFID II are not going to help the market, but are going along with them for political reasons.
However, there was also some optimism. Buy-siders said the avalanche of regulatory change and liquidity challenges in recent years had created a strong basis for the buy- and sell-side to get together and discuss the issues and most were positive that the industry would be able to cooperate to find solutions to these problems despite the regulatory onslaught.
Watch out for coverage of the second buy-side boardroom discussion, which looked at how to build a better trading desk, sponsored by Linedata, on theTRADEnews.com on Friday 28 November.
The TRADE would like to thank the principal supporters of the Leaders in Trading 2014, ITG, Linedata, London Stock Exchange Group and Macquarie and all who attended to make this event a great success.