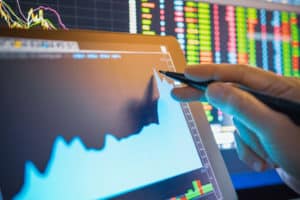 Exchange operator Cboe has confirmed its block trading platform logged its biggest-ever transaction earlier this month in Swiss stock Logitech.
The record block trade of €72.5 million on Cboe LIS happened on 11 February, the exchange confirmed in a statement on social media.
Cboe said in the social media post that the record transaction on its platform demonstrated "the benefits of having competition back in Swiss equity markets".
The new record for Cboe's block trading platform follows the reintroduction of Swiss securities to UK-based trading venues after Switzerland and the UK reached an agreement on exchange equivalence last month.
More than 200 Swiss-listed stocks had been removed from trading venues across the UK and Europe following the European Union's decision not to renew Swiss equivalence in July 2019. The London Stock Exchange Group, Aquis Exchange and Cboe Europe readmitted Swiss stocks for trading via multilateral trading facilities (MTFs) on 4 February.
"This will bring back competition, choice, and a full range of execution mechanisms to one of the region's biggest equity markets, greatly benefitting our participants, as well as end investors," said David Howson, president of Cboe Europe, as Swiss stocks were re-listed.
Last month, Cboe completed its acquisition of BIDS Trading which it worked closely with to develop Cboe LIS in 2016 before the introduction of MiFID II in Europe. Block, or large in scale (LIS) trading, has surged under the regulatory regime as traders can benefit from waivers allowing them to negotiate transactions without pre-trade transparency.
The European equities trading landscape has shifted since the end of the Brexit transition period last month. Roughly €6 billion in daily volumes moved away from London in the UK towards European trading venues in Amsterdam and Paris.
Speaking to The TRADE about the developments, Howson said Swiss share trading would provide "a nice bump to the UK platforms", describing it as "an eagerly awaited return for us and our customers".