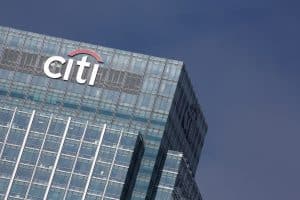 Citi is the latest major sell-side institution to enter the cryptocurrency space as it awaits regulatory approval to start trading Bitcoin futures for institutional clients.
The Bitcoin futures will be traded on US-based derivatives exchange CME Group following the relevant regulatory approvals, a source familiar with the matter has said.
Citi originally reported in May that due to a surge in interest from clients it was considering launching crypto services across trading, custody and financing.
"Our clients are increasingly interested in this space, and we are monitoring these developments. Given the many questions around regulatory frameworks, supervisory expectations, and other factors, we are being very thoughtful about our approach" a spokesperson from Citi said in a statement.
"We are presently considering products such as futures for some of our institutional clients, as these operate under strong regulatory frameworks."
The launch of Bitcoin futures at Citi could mark a significant milestone for the cryptocurrency market which some major institutions have continued to keep at arm's length. A Lack of regulatory framework and infrastructure has remained a barrier to entry for some, however, due to increasing demand this has continued to bulk out in the last few months.
TP ICAP, Fidelity and Flow Traders, however, confirmed in June that they would be collaborating to launch a crypto trading platform offering a wholesale electronic marketplace for spot crypto trading.
In the same month, Standard Chartered and BC Group also confirmed they were partnering to launch a digital asset brokerage and trading platform.