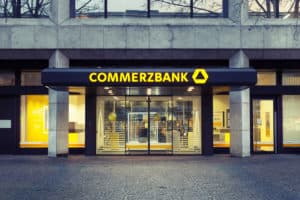 Commerzbank has confirmed plans to shut down its equity sales trading business as part of radical restructure plans that will see the loss of 10,000 full time employees by 2024.
Speaking on the bank's Capital Markets Day, Commerzbank CEO Manfred Knof outlined plans to wind down the equity business and streamline its product portfolio to reduce 'costly complexity'.
"We have already started to review each and every client relationship on its return profile," Knof stated. "In future, we will only deploy capital in client relationships that provide us with a decent return."
Commerzbank's ambitious restructure plans, known as Strategy 2024, include cost savings of €1.4 billion by 2024 with 10,000 full time jobs cut and the closure of 30% of its business locations globally. It will look to become a more digital bank with sustainability at the centre of its strategy.
"We all want to make Commerzbank strong, efficient and sustainably profitable again," Knof, who became CEO of the bank in September, added. "By implementing our strategy, we believe Commerzbank can become the digital advisory bank for Germany. Implementing this program is my mission."
Commerzbank is the latest to pull out of equity trading following other institutions such as Deutsche Bank and Macquarie, as years of declining equities commissions and regulatory changes have seen the business become far less profitable for smaller players.
Deutsche Bank decided to close its electronic equities trading and prime brokerage businesses and transfer its clients to BNP Paribas in a major deal outlined in July 2019. Similarly, Australia's Macquarie confirmed it would reduce its domestic cash equities presence in Europe to focus on Asia with plans to combine its trading and research services with Kepler Cheuvreux.
In March 2019, Commerzbank and Deutsche Bank confirmed that they were officially in talks regarding a possible merger following months of speculation. While the merger never fully materialised, critics at the time claimed that combing the two struggling institutions would only create a larger problem for the German banking industry.
Commerzbank completed a deal more recently with Societe Generale in May and sold its equity markets and commodities division, including the manufacturing and market making of flow and structured products, and the asset management and ETF franchises, to the French bank. The transaction did not include Commerzbank's cash equity brokerage and commodities hedging business.