Managing inherent sell-side conflicts of interest has become a key factor in broker selection by institutional investors, experts explained at the inaugural TRADE Agora industry event held in London on 21 June.
Speaking to a group of industry leaders, Brian Gallagher, head electronic trading in Europe for Morgan Stanley, said pressure from asset managers had been instrumental in efforts on the sell-side to identify and resolve potential conflicts of interest.
"The broker community has become very transparent in explaining to clients where the electronic business sits in relation to sales trading and program trading," Gallagher said.
Speaking on a panel alongside Instinet Europe CEO Adam Toms, independent industry consultant Richard Balarkas and managing editor of The TRADE, Chris Hall, Gallagher said providing clarity to institutional investors on key conflicts of interest had risen in recent years as a major factor in drawing business.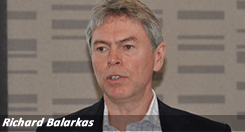 "Transparency has become one of the differentiating factors for sell-side firms in a period of lower volumes and rising fixed costs," Gallagher said. 
A reduction in trading volumes and commission revenues have been influential in reducing headcount in the execution teams of many sell-side firms and a rationalisation of services that has led to traditionally distinct sales, program and electronic trading teams working more closer together. This has led some clients to raise concerns about the leakage of their electronic flow to sales traders.
Regulatory shift
A shifting regulatory environment, particularly in the UK, is also driving changes in how brokers manage potential conflicts of interest.
Last November, the Financial Services Authority increased its focus on the separation of broker payments on research and execution by issuing new guidelines for the use of sell-side corporate access services by institutional investors, an initiative that has been followed through by its successor, the Financial Conduct Authority (FCA), as part of a wider effort to minimise conflicts of interest.
Instinet's Toms believes the FCA's push for greater clarity on what the buy-side pays for had resulted in industry innovation and a growth in the take-up of commission sharing agreements (CSAs).
He noted that the FCA's business plan stated the regulator would seek to police market participants in order to "build competitive markets" and promote competition, which would in theory limit the possibility of burdensome rules.
"The UK regulator is concerned with promoting competition in addition to a continued drive to higher levels of transparency and management of conflicts of interest," he said.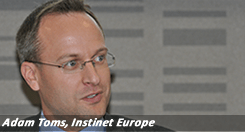 The effects of a prolonged dip in equity volumes had also changed how brokers how brokers perform and how they are selected by buy-side clients, panel moderator Balarkas said. 
Balarkas, himself a former Instinet Europe CEO and ex-global head of Advanced Execution Services sales at Credit Suisse, said reduced volumes alongside fixed operating costs meant sell-side firms were looking at other ways to maintain margins, which could ultimately risk compromising execution quality. Lower fees may reduce buy-side costs, but the price of poor execution performance through lower quality service could be significant, he suggested .
"To a certain extent, buy-side firms have inadvertently contributed to a reduction in execution quality, as they have put pressure on sell-side firms already feeling a squeeze in their electronic offering," Balarkas said.
In addition, the effects of 2007's MiFID regulatory regime, which led to competition between equities trading venues in Europe that has fragmented markets, had unforeseen consequences for broker selection by buy-side firms.
According to The TRADE's Hall, the wealth of execution options means institutional investors are under more pressure than ever to understand and evaluate execution service provision by their brokers.
"The key issue here is not the fragmentation of liquidity, but the increased complexity this has caused. The buy-side to actively engage in the core questions underpinning how brokers' meet this growing complexity," Hall said.
The June Agora session was the first in a series, the next of which will cover outsourcing on 9 September followed by derivatives trading and clearing on 25 November.