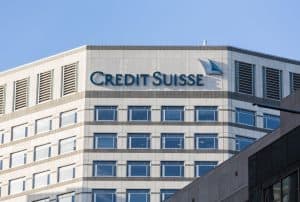 Credit Suisse has released its Q4 earnings, reporting a fourth quarter and annual net loss which was labelled as 'completely unacceptable' by the bank's CEO.
Fourth quarter net revenues at the bank dropped significantly by 33% to CHF3.1 billion compared to the same quarter in 2021 – which Credit Suisse attributed to lower net revenues in the investment bank, the Swiss Bank and wealth management.
Although total operating expenses saw a decline (CHF4.3 billion in Q4 2022 compared to CHF6.3 billion in Q3 2021), the bank experienced a loss of CHF1.3 billion in Q4 2022.
This brought Credit Suisse's total loss before taxes for 2022 to CHF3.3 billion, a significant decline by 443% year-on-year.
Credit Suisse's investment banking division saw steep declines in its revenue compared to 2021, a decrease from CHF9.9 billion to CHF4.6 billion in 2022. The division experienced a loss before taxes of CHF3.1 billion, slightly less than that experienced in 2021 (CHF3.5 billion).
Fixed income sales and trading revenues decreased 44% compared to 2021 to CHF2 billion, reflecting reduced revenues in securitised products, global credit products and emerging markets. Fixed income sales and trading revenues for Q4 2022 declined significantly from CHF460 million in Q4 2021 to CHF80 million (down 83%).
Similarly, equity sales and trading revenues decreased 39% compared to 2021 to CHF1.1 billion, driven by lower equity derivatives revenues compared to a strong 2021 and lower cash trading volumes, particularly in Asia Pacific and Europe, Middle East and Africa, according to Credit Suisse.
Equity sales and trading revenues for Q4 2022 saw a steep decline from CHF370 million in Q4 2021 to CHF18 million (down 92%).
Towards the end of last year, Credit Suisse unveiled a new strategy and transformation plan to create a "simpler, more focused and more stable bank built around client needs". The new strategy aims to see a radical restructuring of Credit Suisse's investment bank, an accelerated cost transformation, as well as strengthened and reallocated capital.

Read more: Credit Suisse to reduce employee headcount by 2,700 as part of new transformation strategy
Credit Suisse has had a difficult few years, with a substantial hit from the Archegos Capital Management disaster, accusations of money laundering for the Bulgarian mafia, and posting billions in losses over the last two years.
Following dire Q2 results last year, Credit Suisse announced a complete overhaul to help improve profitability within the company through scaling back investment banking and reducing overall costs. Given the latest results from Credit Suisse, a reduction in overall costs has not yet led to immediate gains in profitability for the bank.
Ulrich Kòrner, who replaced Thomas Gottstein as group chief executive officer from 1 August 2022 following Gottstein's retirement, is likely to be under substantially increased pressure following another set of disappointing earnings from the bank.
On a more hopeful note, Credit Suisse is making progress in the carveout of CS First Boston, which is expected to create an independent capital markets and competitive advisory-led business, headquartered in the US.
CS First Boston is expected to be more global and broader than existing investment-banking boutiques, more focused than bulge bracket players, and hopes to be competitive in attracting and retaining top talent, according to Credit Suisse.
Alongside Credit Suisse's Q4 earnings, the bank announced the acquisition of investment-banking boutique and registered broker-dealer, M. Klien & Company (MK&C). "The MK&C team will integrate with, and is expected to enhance, the management and advisory capabilities of CS First Boston," said Credit Suisse in a statement.