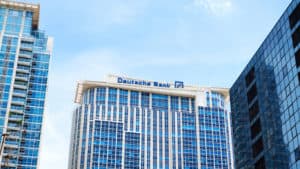 Deutsche Bank has announced its highest Q2 and half-year post-tax profits since 2011, setting itself apart from other banks which have reported profit losses over the same period.
The bank reported €1.5 billion in profit before tax for Q2 of this year, up 33% year-on-year. Meanwhile post-tax profit was up 46% to €1.2 billion.
Looking at the first six months of the year, Deutsche Bank saw profit before tax increase by 16% to €3.2 billion, while post-tax profit was up 31% to €2.4 billion.
Meanwhile, the results outlined increases in net revenues over the last quarter (€6.6 billion, up 7%), which was driven by growth across all core businesses.
Corporate Bank net revenues were up 26% year-on-year to €1.6 billion, with Private Bank and Asset Management net revenues up 7% and 5%, respectively.
Deutsche Bank also reported net revenue increases in its Investment Bank, which were up 11% to €2.6 billion.
This contrasts various other banks, which attributed falls in investment banking revenues as a contributor to disappointing Q2 results.
Credit Suisse reported a decline in investment bank net revenues by 43% on a US dollar basis, with UBS reporting a fall in revenues by 14%. Elsewhere, Goldman Sachs posted a drop in investment banking revenue of 41% earlier this month, while JP Morgan and Morgan Stanley lost 61% and 55%, respectively.  
"With the best half-year profits since 2011, we have proven – once again – that we can deliver growth and rising profits in a challenging environment," said Christian Sewing, chief executive of Deutsche Bank. 
"We are particularly pleased with the progress of our Corporate Bank and Private Bank. Thanks to our successful transformation, we're well on track to deliver sustainable and well-balanced returns through our four strong core businesses."