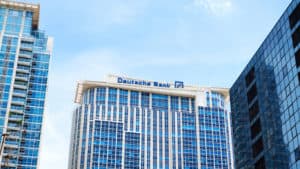 Deutsche Bank has appointed Karen Miles as European head of high yield trading and strategy.
Miles joins Deutsche Bank from Credit Suisse, where she spent the last 12 years, most recently serving as head of EMEA high yield trading and sector strategy.
Before that, Miles also held positions as director, head of European high yield research and vice president, high yield research for Europe.
Miles originally joined Credit Suisse as an associate for high yield research in the US.
She began her career at Bernstein Global Wealth Management, serving as a senior associate.
Miles announced her new appointment in a social media post.
Her move from Credit Suisse follows a string of recent departures in recent months, as traders deserted the embattled bank.
Last week, Credit Suisse's head of America's advanced execution services (AES) sales, Charlie Whitlock, departed for XTX Markets, where he will serve as head of Americas distribution, effective from 3 April.
Elsewhere, Credit Suisse's head of the equity finance group for the Americas, Joshua Lukeman, left the firm for Nomura Securities, where he now serves as managing director and head of US Delta One Index.
In October last year, Credit Suisse announced plans to reduce its employee headcount by 2,700 as part of its transformation strategy. This followed more departures which saw its credit desk continue to decline: with employees such as Simon Johnson, leaving to join RBC Capital Markets as head of credit sales EMEA; while Miles' high yield colleague Gajern Kailavasan also left just before bonus announcements this year. Star credit trader Lefteris Kyriacou is also believed to have departed recently, while the bank's former head of global credit products EMEA, Diego Discepoli, in January this year also joined Deutsche Bank as head of European credit sales.
Following consistently disappointing results from Credit Suisse and its failed attempts to improve profitability, UBS agreed over the weekend to take over Credit Suisse in a deal worth over $3.25 billion – a merger that is expected to move forward without approval of shareholders under emergency ordinance issued by the Swiss Federal Council.
Read More: "No communication from Credit Suisse" re counterparty position
Credit Suisse's future as a counterparty with its own trading desk may be less feasible, especially given its previous plans to wind down its investment banking operations revealed last year.
Read more: UBS agrees landmark takeover of Credit Suisse after intervention from Swiss authorities