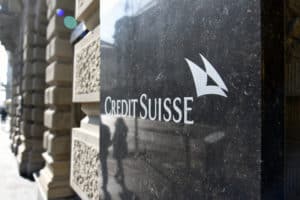 Bond traders were already going through a rough time last week, as uncertainty around rates, Silicon Valley Bank (SBV) fall-out, and the Credit Suisse situation punished pricing.  
Last night's news of a Credit Suisse/UBS merger pushed through by the Swiss regulators didn't help matters, coming as it did with the twin blows of a potentially disappearing counterparty desk and a complete write-down in the value of the bank's outstanding AT1 bonds.  
In terms of the actual merger, whilst the rapidity with which the deal was pushed through was perhaps unprecedented, The TRADE understands that most of the market expected some kind of deal with UBS at some point (despite the bank's previous claims to the contrary) – meaning that the reaction this morning has been relatively orderly in that regard.  
What has been of concern, however, is the lack of communication from either bank to its counterparty clients.  
"We've had zero official communications from either Credit Suisse or UBS about their role as a counterparty, so no one has any idea what's happening there," said one buy-side fixed income trader, speaking to The TRADE this morning on condition of anonymity.  

"We haven't heard from them ourselves," said another buy-side trader, also speaking anonymously. 

"Not to my knowledge," confirmed a third. 
Credit Suisse has played a smaller counterparty role in recent months, largely due to a hiring wobble towards the end of last year that spooked the market.  
"They took on a bunch of new salespeople around September/October, basically telling the market that they were open for business – but then they fired them all again, and obviously that didn't inspire confidence," said the fixed income trader. "However, it's still pretty unusual to hear nothing at all."  
The bank saw an exodus of high-profile credit traders in recent months that has castrated its desk: including the departure of head of EMEA high yield trading Karen Miles, who resigned in December and recently confirmed a new position as head of European high yield trading and strategy at Deutsche Bank.  
Other counterparties had already taken the step of reducing their own exposure to Credit Suisse in recent weeks – with players including Societe Generale, Deutsche Bank and BNP Paribas reportedly restricting new trades involving the group.