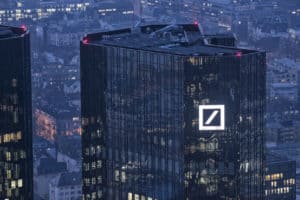 Deutsche Bank has delivered its highest quarter of profit since 2013, recording a 4% jump in profit before tax in the first quarter to reach €1.7 billion with net profit up 18% to €1.2 billion, placing the bank in a strong position for the rest of the year. 
It was notable that the result was achieved despite a 28% increase in the bank's annual levies, which rose to €730 million, recognised in the first quarter. And while Deutsche Bank is not the only bank to be posting positive results (UBS also smashed its targets for the first quarter) it's by no means the same across the board – yesterday HSBC showed a disappointing performance and a drop in profits. 
"In a challenging environment, we delivered both revenue and profit growth across all core businesses. Our first quarter revenues demonstrate clear momentum towards our 2022 objectives. We believe this momentum, combined with continued cost discipline and organic capital generation, positions us well for delivery on our 2022 targets," said chief financial officer James von Moltke.  
The core bank operations (including the corporate, investment and private bank, and asset management) posted a €2 billion profit before tax, with growth across all business lines. The private bank and corporate bank led the charge, with profit growth of 54% and 25% respectively, while the asset management division grew 12% and the investment bank 1%. However, the investment bank still contributes the lion's share, bringing in profits of €1.5 billion for the quarter – 62% of the total. 
In terms of revenues, the core bank grew an overall 3% to €7.3 billion.  
Investment bank net revenues were €3.3 billion, up 7% over a strong first quarter of 2021. This was driven by a 15% growth in fixed income and currency trading revenues, which balanced out a decline in credit trading. The bank also saw a 28% drop in origination and advisory revenues however, including a "significant" year-on-year decline in equity origination, which the bank attributed to lower industry fee pools due to the current economic and geo-political uncertainties.  
Asset management net revenues rose 7% to €682 million. A 13% rise in management fees offset a 34% decline in performance and transaction fees. Net outflows were €1 billion, driven by cash and fixed income products, while net inflows (ex-cash) were €5.7 billion. Assets under management were €902 billion at quarter-end, down 3% quarter-on-quarter but up 10%, or € 2 billion, year-on-year. 
Deutsche Bank also maintains a capital release unit which continued its portfolio reduction during the quarter, reducing its leverage exposure by €4 billion and its risk weighted assets by €3 billion, ahead of its year-end 2022 targets.  
Notably, the bank further reduced its Russian credit exposures during the quarter: cutting gross loan exposure by 5% to €1.3 billion, net loan exposure by 21% to €0.5 billion and additional contingent risk by 35% to €1 billion. Its rouble cash balances with the Central Bank of Russia currently stand at €0.9 billion, predominantly reflecting deposits from existing clients. "All major derivative exposures have been unwound and market risk exposure to Russia remains low," said the bank.  
"We are not taking on any new business in Russia, nor with entities incorporated in Russia," confirmed CEO Christian Sewing on Wednesday. "We have been clear that we are in the process of winding down our operations, in line with our legal and regulatory obligations, and are accompanying our clients in doing the same."  
The results should be a triumph for Sewing, who was appointed CEO in 2018 and who has been pushing an ambitious turnaround plan for the bank. Coming on the back of equally strong Q4 and full year 2021 results, which were the bank's best since 2011, Deutsche looks to be well on track to meet its 2022 revenue targets of €26-27 billion. However, he looks to be playing a cautious hand, warning in his earnings comments that the Ukraine-Russia war and a weakening economy could pose serious risks for the future, including a possible recession. "The global economic outlook is deteriorating, while inflation rates continue to rise," he said.  
The bank has also ringfenced €300 million for potential loan losses in the quarter, up from just €100 million in the same quarter last year. "There were no major defaults yet, but we are now better equipped to absorb possible defaults in future," said Sewing.  
"We are convinced that we are well prepared for more difficult times."