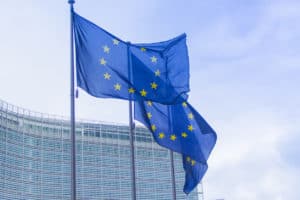 The European Commission has confirmed its intentions to renew the temporary equivalence and recognition of UK central counterparties (CCPs).
In a keynote speech in London today, European Commission vice president, Valdis Dombrovskis, said that the Commission intends to extend the temporary equivalence for UK CCPs, which is due to expire in March 2020.
"As you know, central clearing has been identified as a clear systemic risk in case of a no-deal Brexit," Dombrovskis said. "The Commission addressed it last year via a temporary equivalence decision. This will expire on 30 March 2020. Regrettably, the risk to financial stability has not yet been fully removed, because industry has not so far fully prepared. Therefore, I intend to propose to renew this time-limited equivalence decision beyond that date, to prepare for any eventuality."
The intentions follow the move by fourteen trade associations to urge the European Commission to extend the temporary equivalence of UK CCPs. The Association for Financial Markets in Europe (AFME), the Futures Industry Association (FIA) and the International Swaps and Derivatives Association (ISDA), and others, wrote a letter to the European Commission to ensure limited impact to firms following Brexit.
"The associations request that the Commission amend the implementing decision on UK CCPs to extend the temporary equivalence until the date 18 months after entry into force of the relevant Commission delegated acts under EMIR 2.2, plus an additional three-month period to allow UK CCPs to serve termination notices to EU clearing members in the event that their recognition is withdrawn following ESMA's review," the letter stated.
AFME welcomed the move by the European Commission, stating that it is vital ensure continued access to clearing and settlement services for EEA firms and to avoid significant risk to financial stability in a no-deal Brexit scenario. Although AFME stressed that it is important the extension is officially confirmed as soon as possible.
"We hope that regulators in the EU27 and UK will continue to work together to address remaining regulatory issues, including finding a permanent solution to ensure access to UK CCPs and avoiding disruption to trading shares and derivatives," Oliver Moullin, MD for Brexit at AFME, added. 
The issue of clearing has been at the forefront of concerns for the industry since the UK's decision to leave the EU in 2016. Should the UK fail to gain clearinghouse equivalence, European firms would face higher capital charges for transactions cleared in the UK.