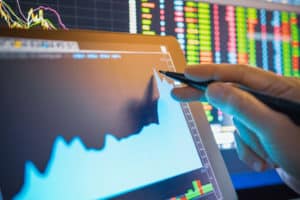 Euronext, Europe's largest exchange, has reported a 'solid quarter' driven by the sustained dynamism of non-volume activities and of trading operations.
The exchange reported a 14% increase in revenue and income in Q2 of this year, compared to the same period last year, which reached €374.7 million – driven by the growth of non-volume related business and trading activities.
Non-volume related revenue accounted for 59% of Euronext's Q2 total revenue this year, while trading revenue grew to €129.2 million, a 15.6% increase compared to the same period last year – a result linked to robust performance across all asset classes in a volatile market environment. Growth was also driven by the recent Borsa Italiana acquisition, which also bumped up the exchange's strong Q1 results.
Cash trading revenues were up 7.4%, to €75.3 million and fixed income trading revenue saw a significant increase of 44%, with revenues reaching €24.9 million. Meanwhile, post-trade revenues were up 12.6% to €93.9 million and clearing revenues increased by 18% to €31.4 million.
Euronext reported that net income, share of the parent company shareholders was up 37.2% to €118.9 million, an increase by €32.2 million compared to the same period last year.
"This second quarter of 2022 was marked by the continuation of the volatile environment seen since the first quarter of the year," said Stéphane Boujnah, chief executive officer and chairman of the managing board of Euronext.
"Euronext's business model again demonstrated its resilience, and generated solid growth in revenue and adjusted net income."
Earlier this year, Euronext migrated its data centre from Basildon in the UK to Bergamo in Italy. The move could increase implicit costs by allowing larger firms with faster connections to take advantage, as noted by Cowen's head of European market structure, James Baugh. The migration brought into question whether venues' new data centre locations could leave some participants at a disadvantage, as previously reported by The TRADE.