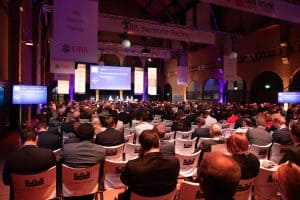 Senior buy-siders at this year's Fixed Income Leaders Summit have said the ongoing search for fixed income liquidity is an exciting search for their trading desks as markets are seeing a huge level of innovation and new trading platforms.
 The proliferation of new trading venues and technology vendors in the fixed income space in recent years has led to new methods of trading for the buy-side and panellists were keen to look to the future instead of focusing on the problems of the past.
"It's probably the most exciting period of liquidity sourcing I've ever lived through," said Lee Sanders, head of execution FX and UK & Asia fixed income trading at AXA Investment Managers. "Every day is a challenge for liquidity, either in the credit world or the world in which we operate it is very hard to say how you are going to find that liquidity as every deal is unique."
Sanders detailed how the firm has been examining open trading sources for new liquidity opportunities, particularly around buy-side-to-buy-side trading, a sentiment echoed by Ricky Goddard, European head of credit trading at Schroders.
"Every bond issuer seems to have 20-30 bonds often with the same people and the same maturity, and it just highlights how disparate the market is and that liquidity isn't centralised in one particular place. So we are forced to be ever more creative about how we trade and that does involve initiatives like all-to-all platforms," Goddard said.
"It might potentially evolve in the buy-side having to make markets in bonds and provide two-way markets to the street. These are the types of things we are thinking about going forward."
Panellists agreed that while there are still historic market structure issues that can hamper the search for liquidity, there was little to be gained in comparing how the current markets stood in the past with the markets traders find today.
"The whole liquidity dynamic…I don't care what happened 10 years ago, I care what is happening in the next five or 10 days," said AXA's Sanders. "I've got fantastic traders knocking themselves out on a day-to-day basis to find that liquidity, that's what the modern buy-side trader does, it's probably the hardest time in our history to source liquidity and bring these things to conclusion."