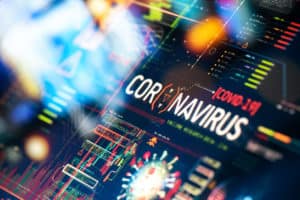 Consolidation on the sell-side could increase as a growth strategy following the global coronavirus pandemic, results to a recent survey from FIS have alluded.
The poll of market participants showed that 35% of sell-side firms named mergers as a growth strategy post-COVID-19, an increase from just 12% of firms before the crisis. The sentiment was not quite as strong on the buy-side, the survey found, with asset managers who cited consolidation as a growth means increasing just 2% to 18%.
The COVID-19 pandemic has brought extensive market volatility and uncertainty to markets globally, and 47% of those surveyed by FIS stated that persistent market volatility was the biggest impediment for growth, while 46% said it was a slowdown in globalisation.
Last year, Deutsche Bank and Commerzbank confirmed that they were in talks for a possible merger. While the deal failed to materialise, both institutions said at the time the move would serve to scale up their business, which had struggled in recent years.
Deutsche Bank's chief executive, Christian Sewing, said at the time that the bank was assessing the role it would play in consolidation in the German and European banking industry. Critics of the proposed merger argued that combing the two struggling institutions would only create a larger problem for the German banking industry.
The FIS survey also revealed that the COVID-19 pandemic has left many firms uncertain on whether or not remote working will stay for the long term and executives are divided about how this will impact growth models.
Of those who were surveyed, 31% said that remote geographically distributed working conditions would have a substantial impact on their growth models. However, 35% also confirmed that they believe it's likely they will allow remote working conditions to continue after the pandemic.
It is unsurprising then that the FIS survey also showed that the industry is moving away from client-facing systems towards more cloud and cybersecurity-based technology. Just over 60% said the disruption from COVID-19 has increased their appetite for cloud systems overall, and 52% of firms said they were prioritising cybersecurity tools, while only 40% are prioritising client-facing systems.