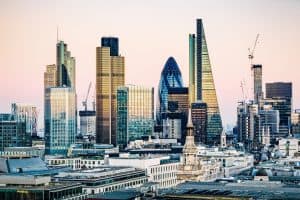 LCH reached double-digit growth for its interest rate derivatives business in 2019, while achieving record clearing volumes across its credit default swap, FX and repo clearing units.
SwapClear, its interest rate derivatives clearing service, registered notional volumes of $1,229 trillion in 2019, up 14% year-on-year, as it looks to retain its central role in the world's derivatives market despite the UK's exit from the European Union.
During the year, LCH was also the first clearing house to launch a service for €STR swaps, as the industry adopts new interest rate benchmarks to replace LIBOR. In November last year, LCH also hit the $1 trillion mark for cleared swaps referencing the secured overnight financing rate (SOFR), the alternative benchmark to LIBOR for US-dollar derivatives.
Meanwhile, the clearing house saw record volumes for its CDSClear, ForexClear and RepoClear service.
Volumes of notionally cleared index and single name CDS increased 23% to €1.5 trillion, while cleared repo volumes grew 7% to €212 trillion. ForexClear volumes increased 5% to $18 trillion notionally cleared, of which $60.5 billion was from buy-side client cleared notional, with volumes having increased by six times from 2018.
"We've continued to collaborate with the market to launch efficient and resilient solutions to support our customers' risk management and capital efficiency," said Daniel Maguire, CEO, LCH, and group director, post-trade, London Stock Exchange Group.
"As we move into 2020, LCH, and the LSEG Post Trade division as a whole, is looking forward to continuing to partner with the market to foster further innovation and enable compliance with regulatory reforms, including the migration to alternative reference rates."
The rise in voluntary client cleared volumes within its FX business comes as buy-side firms look to mitigate the incoming margin rules for non-cleared derivatives. In October, LCH expanded ForexClear services to include FX forwards on eight currency pairs, and plans to add more FX products in the near-term.