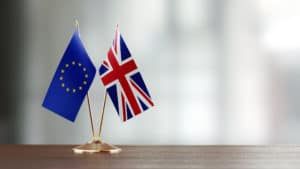 Average daily volume (ADV) on the London Stock Exchange Group's (LSEG) European lit order book has increased 30% in the first three months following Brexit.
Lit ADV at Turquoise Europe – the LSEG's European-based trading venue which went live on 30 November before the end of the Brexit transition period – increased by 10.1% from January to February and then by a further 20.5% from February to March. 
Turquoise Europe's lit growth in ADV per month outperformed its competitors, with statistics showing that rival exchange Cboe Europe's lit venue ADV increased 21% in the first three months of the year, while Aquis Europe's lit ADV grew 17.4%. 
LSEG's Turquoise Europe trading venue, based in the Netherlands, went live at the end of last year as many exchanges established EU-based trading venues to ensure they could continue trading for clients given failures to reach an equivalence agreement. 
Following a stalemate in negotiations on equivalence and the share trading obligation, roughly €6 billion of trading volumes migrated to Europe from the UK on 4 January this year. In the first two weeks of 2021 following Brexit, UK trading venues saw market share in European securities drop from 16% to 2.5%.
"Since we saw that migration in January kick off, we have seen significant growth across Turquoise Europe, and what we have been really delighted to see was the growth on Turquoise Lit," head of Turquoise Europe,  Adam Wood, told The TRADE.
Wood added that growth in Turquoise Europe's lit order book in the first three months of the year had been driven to its liquidity provision, retail participation, and new demand from market participants for securities from the central and eastern Europe (CEE) markets.
"We  have a liquidity provision and we have an enhanced one in place for Turquoise Europe as well, we've also seen a lot more activity and requests to CEE markets. Czech Republic, Hungry and Poland are becoming more popular as members start to realise cost savings opportunities and especially the mid-point for some of these stocks which tend to have quite wide spreads," said Wood.
"We've also started to add Euronext growth securities to Turquoise Europe. We are seeing a lot of members signing up and growing daily activity."
Turquoise Europe's dark pool Turquoise Plato also saw growth, but not to the levels seen in the lit market in the first three months of 2021, which is likely due to changes in regulation in both the UK and the EU.
Figures seen by The TRADE show that Turquoise Europe's dark pool total trading volume rose from €15 billion in January to €20.7 billion by the end of March this year.
In comparison, during the significantly more volatile first quarter in 2020 and prior to the launch of Turquoise Europe, the venue's dark trading volumes increased from €21.2 billion in January to €33.9 billion in March.
Dark pool trading volumes shifted almost entirely to the LSEG's Amsterdam-based venue in the first few days of trading in January 2021 after Brexit alongside EEA share trading.
"On 4 January, about 90% of anonymous trading on Turquoise Plato was executed in Amsterdam. At the end of January, that proportion is now up towards the mid-nineties," Scott Bradley, head of sales and global business development, LSE cash secondary markets and Turquoise, told The TRADE in an in-depth look at the loss of EU share trading following Brexit.  
Dark pool trading appears to be one area where battle lines have been drawn between the EU and the UK in the tug of war that has followed Brexit.
Earlier this year, the UK's Financial Conduct Authority lowered the large-in-scale (LIS) thresholds for dark pool trading to €15,000. The changes meant that in the UK if a transaction is above €15,000, it can trade in a dark pool, whereas in the EU, the minimum threshold for using a dark pool remains significantly higher at €650,000.  
Under MiFID II regulation, EU regulators have made it clear that they remain steadfast in their intention to restrict dark trading and force more volumes onto transparent, lit venues, in Europe.
In terms of the regulatory divergence on dark pool trading from the EU and the UK, Turquoise Europe's Wood said for the time being the exchange was focused on a period of harmonisation for clients.
"From a Turquoise perspective, we're not making any immediate changes, but that's not to say we won't in the future. From the initial round of feedback that we have had, participants want greater harmonisation, so we are keen to try to do that for a period of time and then review things when some time has passed," said Wood.
"In Europe, it has always a very difficult one to predict, there's a lot of support and evidence to demonstrate the benefits of being able to trade in anonymous pools at the midpoint with  minimal information leakage and price reversion, etc. so we'll watch that very closely."