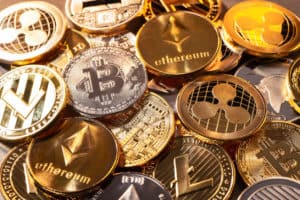 FX and cryptocurrency exchange operator LMAX Group has partnered with SIX to launch centrally cleared crypto-asset futures.
Expected in Q3 2022, subject to regulatory approval, the launch will initially include centrally cleared USD settled Bitcoin and Ethereum futures.
Trading will occur 23 hours, five days a week, with plans for the full product roll out to be extended to 24/7 trading.
"As institutional adoption of crypto trading continues to increase, we will complete our offering by adding crypto futures to our portfolio through this partnership," said David Mercer, chief executive of LMAX Group.
"The market in crypto futures is three times bigger than spot and by offering access to deep institutional liquidity, we are providing a significant market entry opportunity as crypto and blockchain finance evolves. This pioneering solution will close the gap, enabling round-the-clock trading of crypto futures, seven days/week, meeting the needs of a rapidly growing number of institutional participants."
Last year, a 30% stake in LMAX Group was acquired by US private equity investor, JC Flowers. The $300 million minority investment valued the FX and crypto trading venue operator at $1 billion at the time.
The partnership with SIX will leverage the expertise of the two firms and immediate uptake is expected to be received from LMAX Group's existing clients, as institutionalisation continues to occur in the digital asset ecosystem and demand for robust trading infrastructure increases.
LMAX Group said in a statement that as digital assets and traditional capital markets increasingly converge, it sees perpetual trading at the forefront of transitioning to complete, open market access, ensuring more efficient functioning of capital markets and increasing levels of global trade.
"This is a major milestone for SIX from several perspectives. We are making substantial progress according to our digital asset clearing strategy and are expanding our portfolio of cleared asset classes," said Javier Hernani, head of securities services at SIX.
"At the same time, we have the opportunity to bring our Swiss and Spanish infrastructure strengths together by having a diverse project team with experts from both sides. We are creating a strong SIX Clearing services powerhouse that will benefit all our customers."
Earlier this month, SIX reported "substantial" profit losses which it attributed to fluctuations in Worldline share prices that saw its profits rise in 2020 and fall in 2021. The exchange said that without the effects of Worldline, it would have expected to see an increase in group net profit of 37.3% on the previous year.