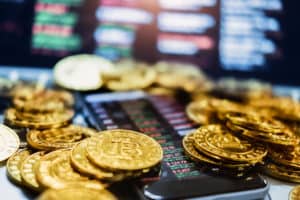 US private equity investor JC Flowers has acquired a 30% stake in FX and cryptocurrency exchange operator LMAX Group for $300 million.
LMAX confirmed in a statement that the cash acquisition values the London-based group at $1 billion and CEO, David Mercer, will continue to lead the business after retaining a substantial stake in the firm with his management team.
The FX markets specialist operates five exchanges globally with matching engine infrastructure in London, New York and Tokyo. LMAX expanded its operations into the crypto space in 2018 and launched LMAX Digital for spot crypto trading, which now serves more than 500 institutional clients.
"The LMAX Group exchange infrastructure offers efficiency and transparency, both of which are in high demand by the growing numbers of institutional participants in foreign exchange and crypto currency trading," said Chris Flowers, managing director and CEO at JC Flowers.
"David and his management team have driven considerable international growth in recent years, and we look forward to supporting them as they continue to expand their support of the world's top institutional market actors."
LMAX added it will use the funds and partner with JC Flowers to expand its business in both FX and crypto in the US and Asia. The trading venue recently hired the former Euronext FX global head of sales in a new role to lead the firm's sales efforts in the Americas.
JC Flower's minority investment in LMAX marks another major deal for crypto as market participants continue to launch platforms and venues aimed at institutional investors engaging with digital assets.
Last month, interdealer broker TP ICAP confirmed plans to team up with Fidelity and Flow Traders to launch a crypto platform, while German exchange group Deutsche Börse acquired a minority stake in crypto trading and brokerage firm, Crypto Finance.
"This is a significant milestone in the evolution of LMAX Group that vindicates our industry-leading business model and the role we have to play in the foreign exchange and crypto currency markets of the future," LMAX chief executive, Mercer, commented.
"Not only have we identified a like-minded partner in JC Flowers who understands global capital markets and brings valuable connectivity to strengthen LMAX Group's presence in North America and Asia, but one that shares our vision of building the company into the pre-eminent global FX and crypto currency exchange."