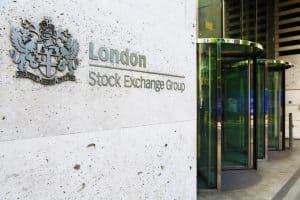 The London Stock Exchange Group (LSEG) has confirmed it is in talks to acquire Refinitiv in a $27 billion deal that could form one of the largest data and trading powerhouses globally.
In a statement, the exchange operator confirmed that it is currently in "advanced discussions" with Blackstone and Thomson Reuters about a possible acquisition of Refinitiv for a total value of $27 billion, which LSEG said it would raise by issuing new shares.
LSEG claimed that the move to acquire Refinitiv was driven by the "digital transformation of the financial markets infrastructure landscape", which has increased client demand for data content and analytics accessible on open platforms. If completed, the deal would create the largest listed global financial markets infrastructure provider by revenue, with combined annual revenues of more than £6 billion in 2018.
"Against this backdrop, the [LSEG] Board has conviction that a leading financial markets infrastructure provider must operate globally and across asset classes, with data management, analytics and distribution capabilities that can serve customers across asset classes and geographies," LSEG stated.
Refinitiv, formerly the Thomson Reuters Financial & Risk company is 55% owned by private equity funds managed by Blackstone and 45% owned by Thomson Reuters, and provides its 4,000 institutional clients with data and analytics via its Eikon and Elektron platforms, as well as trading services via the FXall and Matching platforms. Refinitiv currently has average daily trading volumes of more than $400 billion in FX and $500 billion in fixed income.
"It is a very bold move by the LSE and in many ways great to see by a UK company given the political environment," Tim Cave, analyst at TABB Group, told The TRADE. "If it went ahead few exchange groups would be as global, it gives the LSE a big presence in Asia, and a major foothold in the fixed income and FX transactions business. Clearly it faces challenges. I think counterbids from the likes of ICE and CME are likely.
"It also comes at a sensitive time both politically and in the context of the global debate around the cost of market data. The fact that the group would be an owner of venues and a major data vendor will come under close scrutiny, and it might have to instil Chinese walls between those businesses. Any order routing technology might have to be divested, as that is what scuppered the ICE and Trayport deal. That would unlikely derail the deal though. The deal will have a long road to completion, but it makes strategic sense and could precede even bigger deals in the market infrastructure in the next few years."
German exchange operator Deutsche Börse, which was in talks with Refinitiv in April to acquire its FXall trading platform for around $3.5 billion, issued a statement confirming that it does not expect its takeover of Refinitiv's FX business to go ahead in light of LSEG's move.
Upon completion of the proposed takeover, Blackstone and Thomson Reuters would hold a 37% stake in the combined company, and just under 30% of the total voting rights of LSEG. LSEG would continue to be chaired by Don Robert and led by David Schwimmer as CEO, and David Warren as CFO.
LSEG and Thomson Reuters, which also confirmed the takeover talks via a statement, stressed that terms of the deal remain subject to Board approval, antitrust and regulatory clearances and other customary closing conditions.