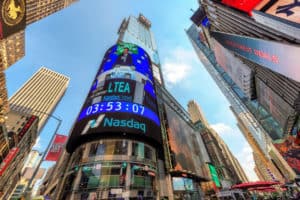 US exchange operator Nasdaq has entered into a long-term collaboration agreement with blockchain technology specialist R3 to implement its flagship platform for digital assets.
As part of the deal, the markets technology division at Nasdaq will use R3's Corda Enterprise platform to support institutional grade, full lifecycle services for digital assets marketplaces.
Nasdaq said the platform will help to boost its capabilities to support clients and business cases requiring institutional grade controls in reliability and availability, due to the scalability, low-latency and encrypted nature of the software.
"This collaboration between Nasdaq and R3 is another important milestone in Nasdaq's continuous development of technologies that support the creation and growth of dynamic, trusted digital asset marketplaces," added Johan Toll, head of digital assets within the markets technology division at Nasdaq. "R3's Corda platform will fit well into Nasdaq's technology ecosystem and partnership strategy and allow us to harness the power of scalable design and a new level of interoperability."
Cathy Minter, chief revenue officer at R3, commented that financial institutions are becoming increasingly aware of the demand and potential for servicing the needs of digital assets, with R3 able to accommodate with solutions designed to be secure and reliable in a regulated environment.
"Together with Nasdaq we will provide a world-class platform on which digital asset markets can be built, helping to rapidly accelerate the growth of these markets and others around the globe," she said.
The new agreement with R3 follows Nasdaq's move earlier this month to launch its new cloud-based data service which will provide clients with access to real-time exchange, index and fund data. The new business will run on Amazon Web Services cloud technology, to increase support, ease of use, agility and scale.