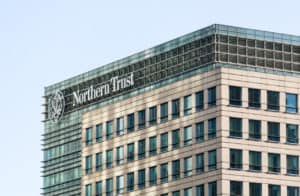 Northern Trust has partnered with BlackRock to create an end-to-end investment ecosystem for both its asset manager and allocator clients that will encompass everything from trading services and operations to data insights and analytics.
The launch of 'Whole Office', an open architecture strategy, is aimed at providing clients with services at all points of the investment lifecycle through a combination of proprietary services and partnerships.
Underpinning the rollout is a deal with BlackRock where mutual clients can benefit from the use of the asset management giant's Aladdin Provider. The platform has been highly sought after by custodians like Northern Trust looking to support mutual clients through the Aladdin system, which connects asset managers to servicers and enhances manual and inefficient processes.
The link will provide clients with increased efficiency, interoperability and transparency across the back-, middle- and front-office, with operations, data, and servicing capabilities.
For Northern Trust, Whole Office culminates its efforts in recent years to bring front-, middle- and back-office services to its clients in an evolution from traditional custody offerings to a more lucrative business model for today's operating environment.
"We're looking at breaking down the artificial barriers and bringing a whole office solution to the market," explained Marc Mallett, director of strategy for asset servicing, Americas at Northern Trust. "Historically there have been individual silos that solved specific problems, whether that relates to equity order management systems, fixed income accounting platforms or analytics engines. You had buyers within the investment firms – the equities teams, fixed income teams – and they were all out to purchase five of the best solutions to fit requirements and needs at the time.
"Over the years that continued to evolve to the point where it defined the way we work with the different parts of our organisations bucketed in these artificial silos, when in reality our asset owner clients don't hire asset managers to be the best at the front-office, the middle-office or the back-office, they hire them to be the best at the whole office."
Typically known for its middle- and back-office services, Northern Trust expanded its front-office capabilities for asset managers in October 2018 with the launch of an outsourced trading desk. At the time, the move marked the first custodian to take on buy-side trading functions, and the service has subsequently achieved notable success in its relatively short lifespan with a mix of asset management clients.
Acquisitions of brokerage business, Aviate Global, and algorithmic trading platform BEx have been part of Northern Trust's strategy to build out the front-office offering and partnerships such as the one with BlackRock and existing agreement with Bloomberg AIM – the execution and order management system – have been an essential component.
The partnership model is the opposite route of that taken by US-custody rival State Street which acquired Charles River Development in 2018, giving it a proprietary order and execution management system. SS&C made a similar move by purchase Eze Software.