Matthew Cullen works in the Derivative Services team at BNY Mellon, but before becoming a team leader in OTC portfolio reconciliations, he was the English pole vault champion.
In 2012, the UK was swept up in Olympic fever when Cullen joined the Manchester offices of BNY Mellon. Since then, the company has worked to develop a corporate culture that encourages staff 'well-being' and a good balance of work and life.
For Cullen, it has ensured he has been able to develop a healthy career in derivatives alongside his other passion – athletics.
He was first introduced to pole vaulting by trying his hand at decathlon. It wasn't easy for Cullen as he had always been interested in the pole vault, but could never find a coach.
He then joined his local track and field club Sale Harriers – the club also responsible for the success of Olympic gold medallist Darren Campbell and Commonwealth champion Diane Modahl.
Having joined the club, he found the man who would later become his long-term coach Julien Raffalli-Ebezant. Raffalli-Ebezant had coached several elite international athletes, including GB Olympian Holly Bradshaw and Cullen began to realise that together they might make quite the pairing.
Cullen recalls: "Julien provided a lot of opportunities to our training group. Working with some really high performing athletes always inspired me to work even harder."
Then in 2012, Cullen reached the level that gave him the reputation as an elite national vaulter.
"My proudest achievement was becoming England Champion. The weather that day was absolutely terrible and in my warm up, I didn't even make the crash mat on my first two jumps. But, when it counted, I was able to perform close to my best in some of the worst conditions."
From working on internal career development, to organising Olympic taster events, Cullen's career has already equipped him with an exceptionally diverse range of skills. Despite this, he is also appreciative of the work/life balance that his employer has granted him in order to pursue his extra-curricular ambitions.
He says: "We are seeing a lot of initiatives to make BNY Mellon more than just a place to work, but somewhere that provides support to help everyone individually find a good balance of work and life.
"I normally train straight after work and then go on to coach afterwards. Even the easy things, like eating at the right times and getting enough sleep need to be planned."
Cullen has been vaulting since the age of 14 and has already seen an accomplished career. From becoming England Champion in 2012, to coaching at the national level more recently, he is keen to pass the baton to the next generation and get many more people into sport.
At work, he has organised events to afford his colleagues the chance to try different sports such as cycling and athletics, which they may not have not tried before.
Paying it forward
In addition to competing, Cullen is using his vast experience to coach others. He was recently selected as a pole vault coach for England's national squad. "As I moved from competing to coaching, the goalposts have changed. It's a great honour and privilege to be such a huge part of the lives of the young people I coach. It's a different type of achievement but one that is even more rewarding." Matthew is a coach to a national champion as well as a mentor to other coaches which has enabled him to focus his efforts where they will make a difference. It's easy to aspire to a lifestyle like his, but managing training and sporting commitments is no easy task.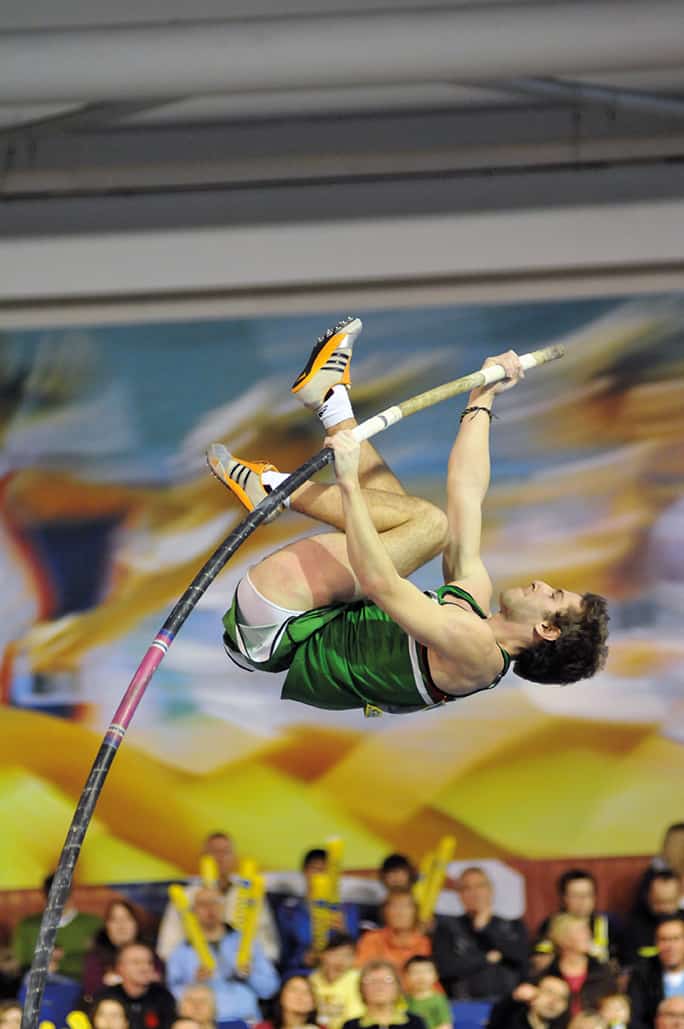 He says: "I train and coach six days a week so there is not much space for downtime. In competition season there have been many occasions where I have finished work on Friday, gone to the airport, jumped on a plane to compete on the weekend and been back in the office Monday morning. The key to it all is good time management and making sure I'm prepared for each day."
Pole vault training requires running, weights, gymnastics and general strength work, which demonstrates that the discipline is much more than jumping with the aid of a big stick.
"It comes down to hard work. You need speed, strength, and overall athleticism to get over the bar. I've always liked the challenge of being the best you can be in so many different ways."
Corporate growth
While athletics has controlled most of Cullen's life, he has managed to lay the foundations for a solid financial career too. After finishing university, he secured a role at BNY Mellon in the fund accounting team. He has since worked his way up over four years with the company, as well as one year in the derivatives team.
He says: "I learned very early on in sport that nothing worth having comes without hard work and its been helpful over the years to have that in mind. Perseverance is key!"
After working as a team leader in OTC portfolio reconciliations, Cullen moved over to trade processing. The department of derivative services in Manchester not only includes trade processing and reconciliations, but middle office, client services, and a new addition in collateral management.
He claims that derivative services has given him an opportunity to not only broaden his knowledge of services at the company, but also to gain some management experience in the finance industry.
Combining the lifestyle of an elite athlete and coach, with the lifestyle of a dedicated derivatives professional is not an easy task, but Cullen says the skills that enable him to be a successful coach are the same ones that help in the office.
He says: "Good people management is the same whether in an office or at the track. Your ultimate goal is to help your colleagues reach their potential and to do that, you firstly need to understand where they want to be. You can then help them get there by providing a listening ear and good guidance".
Coaching over 20 regional and national athletes has helped Cullen guide his fellow team members to focus their efforts where it will make a difference, he says.
"Something I've tried to take from athletics into business is to step up when it matters. It's important to be confident enough in your preparation so that when you get the opportunity, you are really able to show what you're worth".
A balance of work and sport is not uncommon during the new millennium and the financial services industry is waking up to the fact that companies that respect a less stressful lifestyle can be more appealing to millennials.
Cullen believes the biggest change in his profession is the increasing emphasis on achieving a better work/life balance in addition to good wellbeing and personal development.
"Since I started in the financial services industry, there has been a notable increase in the number of initiatives at BNY Mellon to provide more to its employees. I'm a strong believer in mental benefits of an active lifestyle so these initiatives are something I'm really on board with. I'm looking forward to what will change in the future and will continue to try and bring more ideas to the drawing board."