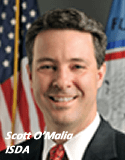 The leading voice in lobbying for improvements in OTC derivatives reforms has warned against new regulations resulting in fractured rules, markets and liquidity.
The International Swap and Derivatives Association's chief executive, Scott O'Malia, has said that the Dodd-Frank rules implemented in the US have resulted in exposing end users to duplicative and sometimes inconsistent requirements. 
O'Malia highlighted how the speed with which Dodd-Frank was implemented had led to some of the issues the market now faces. The US was fast out of the blocks to implement reforms in line with G20 requirements following the financial crisis.
Changes such as the mandatory central clearing of interest rate and credit default swaps are still yet to be rolled out in Europe, though the US was quick to introduce its own rules. 
"These divergences not only increase compliance costs, but have led to a split in liquidity along geographic lines, which reduces choice, increases costs, and could make it more challenging for end users to enter into or unwind large transactions, particularly in stressed markets conditions," said O'Malia.
He went on to point out how this was contrary to G20 requirements in his testimony before the US House of Representatives Committee on Agriculture this week.
As a solution, O'Malia has called for the US to harmonise its rules with global regulators.
"With other jurisdictions now developing or implementing comparable rules, there is now an opportunity to harmonise the various regulations to facilitate cross-border trading," added O'Malia.
"Critical to this initiative is an effective and transparent substituted compliance framework. Efforts to achieve equivalence between jurisdictions have floundered on several occasions because regulators have conducted a granular, rule-by-rule comparison of the requirements. Substituted compliance determinations based on broad outcomes would maximise the potential for cross-border harmonisation, and would align the regulatory framework more closely with the G20 commitments."