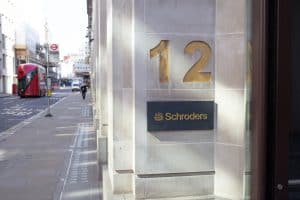 Global investment manager Schroders has signed up to a specialist data analytics network that aims to bridge the gap between traditional and startup financial institutions.
Schroders is the first asset management firm to join The Disruption House (TDH) and use its TDH Platform and TDH Scorecards to assess the services and capabilities of new technology providers as part of its innovation programme. 
Chief technology officer at Schroders, Stewart Carmichael, explained that the asset manager is committed to a programme of innovation and is keen to work alongside early stage companies more. 
"One of the challenges we face is having the time to evaluate all the options under consideration, when there are so many startups offering similar services… We hope that the accelerated market scanning and the company assessments will help us to identify and evaluate innovative startups quickly and effectively," he said.
TDH's co-founder and CEO, Rupert Bull, added that the addition of Schroders to the network signals the industry's support for the company's overall concept.
"Our proven data driven approach underpins everything we do, enabling us to deliver comprehensive market access, together with validated and objective assessments of new technology providers," Bull said.
"We believe this capability helps our clients to mitigate against the financial and reputation risks typically associated when engaging with new or developing businesses. We look forward to collaborating with Schroders' on their technology innovation evaluation and engagement programme."
TDH recently hired a former senior technologist from Credit Suisse as a lead data scientist and technology consultant, to further develop the company's benchmarking and performance tracking platform. 
Ian Green spent 15 years at Credit Suisse, initially as head of equities IT and then as global head of fixed income eCommerce. He also held senior technology roles at eCo Financial Technology and Sungard.