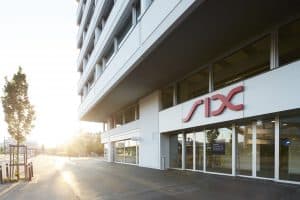 SIX Digital Exchange (SDX) has appointed a former top trading and execution executive from State Street as its new CEO, as it looks to take its digital assets platform to the next stage of rollout. 
David Newns will become the exchange's third CEO in just over 18 months, replacing Tim Grant who will step down. Subject to approval from FINMA, Switzerland's financial regulator, Newns will assume the role from October. 
Newns previously spent over 15 years at State Street in London, where he was most recently global head of GlobalLink Execution Services, overseeing the bank's FX electronic trading platforms. He also founded Currenex in 1999, which was acquired by State Street in 2007 for $564 million. 
According to SDX, Newns's mandate will be to take the exchange into its next phase of full operations and growth. 
"I believe that this is the perfect moment for our industry to redefine how it engages with its clients and stakeholders and, in turn, empowers them to serve their clients. SDX is in the ideal industry sweet-spot to achieve this and I'm looking forward to driving its further growth and development," said Newns on his appointment.  
SDX has received a draft financial market infrastructure (FMI) licence from FINMA, and the exchange said it expects to receive formalisation of its licences soon. 
"Once we receive regulatory approval, we will need to be ready to ramp up operations, client onboarding and deployment," said Thomas Zeeb, chairman SDX and member of the executive board, SIX. 
"As with any infrastructure, success will be defined by scale, and our challenge going forward will be to develop the relationships and partnerships – ecosystem, if you will – that will enable us to offer our clients what they are really looking for in challenging times: New services and products for their clients." 
Grant leaves SDX having led several key projects aimed at developing the trading, settlement and custody infrastructure for digital assets. He joined in March last year from R3 Labs, of which he was the former CEO. 
In December, the exchange made an investment in Custodigit, the joint venture created by Swisscom and Sygnum in 2018, to support the complete investment value-chain for digital assets. SIX also participated in a consortium, which included the Bank for International Settlements, where it successfully completed a proof-of-concept experiment that integrates tokenised digital assets and central bank money. 
"I thoroughly enjoyed working with Tim and his team at SDX and now look forward to working with David as we take SDX into the next stage of maturity and development. David brings with him the background and experience to take us forward and extend the reach of the SDX platform throughout the industry," added Zeeb. 
Last month, SDX recruited Michele Curtoni, another State Street alumnus and a former vice president of digital product development and DLT, as head of strategy.