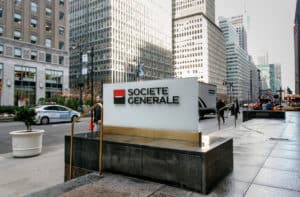 Societe Generale has confirmed the appointment of two co-heads of its equities and equity derivatives business in the Americas, following Hatem Mustapha's recent promotion.
James Masserio and Salim Nemouchi have been chosen by Societe Generale to replace Mustapha, who is now head of global markets for the Americas, as co-heads of equities and equity derivatives in the region.
Masserio and Nemouchi will jointly oversee all Americas equities and derivatives trading and sales activities as of the third quarter this year, reporting to Alexandre Fleury who is the bank's global head of equities and equity derivatives.
Societe Generale hired Nemouchi in 2004 as a trader in Paris. He then moved to New York in 2013 and held various senior roles with the French investment bank, including as head of the linear trading group within equities and equity derivatives Americas.
Masserio joined Societe Generale in 2017 as head of equity derivatives in the Americas after spending 16 years with Credit Suisse, most recently in the same role as at Societe Generale as head of equity derivatives for the Americas.
Societe Generale's Americas global markets head and former head of equities and equity derivatives for Americas, Mustapha, took on his new role in May. He replaced Sylvain Cartier who was appointed head of fixed income and currencies within global markets, tasked with developing investment and financing solutions to make the bank's rates, credit and currencies trading more profitable.
In April, Societe Generale said that 1,600 jobs will be cut across its global business, as part of major plans to reduce costs by €500 million. The bank said that a restructure of its investment banking segment could see a reduction of close to 1,600 jobs globally, with 750 in France and the rest across London and New York.
As part of the restructure, Societe Generale confirmed the planned closure of its OTC commodities and proprietary trading businesses, and mapped out plans to reorganise its fixed income division, focusing on rates, credit, currencies and prime services.