View the official newspaper of TradeTech Europe 2023 here!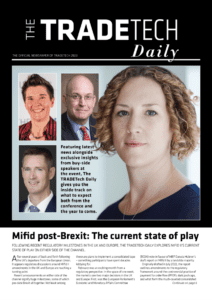 It's hard to believe that it's been a whole year since we brought you the last edition of The TRADETech Daily but here we are again in Paris for one of the most pivotal events in the industry's calendar. TradeTech Europe plays a central role in gathering colleagues, clients, peers and friends from across the industry for lively discussion of the topics most shaping the markets, all the while creating opportunities to make new connections and reminisce with old ones. We're delighted to be back once again as the official media partner of the event.
The last 12 months have certainly kept us busy at The TRADE and if the first quarter of this year is anything to go by, then 2023 isn't likely to offer any respite. As the official newspaper for the conference, The TRADETech Daily gives you a sneak peek at the central discussions taking place on stage at this year's event. As we enter the much-anticipated Trilogue process in Europe, this edition brings you an in-depth cover feature exploring the current state of play of Mifid II regulation in both the UK and Europe – a topic central to several of the panels this year.
It wouldn't be The TRADETech Daily without a string of exclusive buy-side interviews and this year's edition is no exception, featuring insights from Comgest, BNP Paribas Asset Management, Barings, Fidelity International, T. Rowe Price and Jupiter Asset Management. You can also find the full event agenda at the back of this issue so you don't miss any of the key discussions taking place over the next few days.
Finally, we couldn't introduce this issue without mentioning the Sustainable Trading and TRAFIX sponsored cycle home from this year's event, supported by BMO, in aid of Farms for City Children, which our very own Annabel Smith is taking part in! Visit https://www.justgiving.com/team/TradeTechReturn to donate to this worthy cause and keep an eye out for live coverage of their journey!
With both a digital and a print version (check out the online edition at thetradenews.com) this magazine will be your constant companion throughout the week. Don't forget to check out thetradenews.com each day for detailed coverage of daily content: including panel coverage, keynote summaries, full-day video roundups, exclusive interviews, and much more.

Happy TradeTech-ing!

The TRADE team
Click here to download the full PDF.