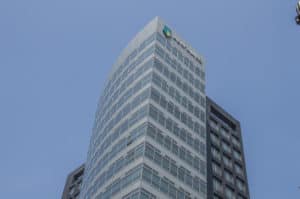 The recently appointed chief executive of ABN Amro will prioritise a review of the Dutch bank's investment banking activities, after he expressed disappointment in its exposure to two clients following a €395 million loss in the first quarter.
Robert Swaak, who just last month took on the role as CEO of ABN Amro, told analysts on the bank's first quarter 2020 earnings call that all activities of the corporate and investment banking (CIB) division, including its derivatives clearing arm, are "on the table" as part of the review.
The comments followed €1.1 billion of impairments at ABM Amro during the first quarter, driven by significant upfront provisioning for sectors impacted by the coronavirus crisis, as well as exposure to two 'exceptional' client files, which contributed €460 million.
ABN Amro confirmed in March that it would incur a single €200 million loss in its clearing business from one US client that failed to meet margin calls to keep trading, following widespread market volatility at the height of the coronavirus crisis.
"The trading strategy failed during extremely volatile markets in March, and we had to close out the position of the client, which led to a significant loss," said Tanja Cuppen, chief risk officer, ABN Amro on the call.
Alongside the US client, ABN Amro is one of several banks filing charges against Singapore-based oil trader Hin Leong, who is being investigated by police after he admitted to undisclosed losses of $800 million. Hin Leong was not explicitly named in ABN's quarterly update, but the bank said it had taken a €225m impairment related to "potential fraud" in its trade and commodity finance portfolio in Singapore. 
"The risk profile of certain parts of CIB are not fully-aligned with that of the bank," Swaak said. "Now let me be clear, I am indeed disappointed by the two exceptional client cases in CIB, which explained a significant part of the impairments this quarter. The CIB review is a key, short-term priority for me."
Swaak added the CIB review is a high priority after the institution acknowledged the division was not meeting return requirements. When questioned which activities would be considered under the CIB review, Swaak reiterated that all activities, including its derivatives clearing business, would be scrutinised. ABN Amro will share the outcome of the CIB review, which began earlier this year, in August.
ABM Amro confirmed in January that Swaak, a former PwC executive and chairman in the Netherlands, would take over as CEO of the Dutch bank in April, replacing Kees van Dijkhuizen who had been with the organisation for seven years, initially as chief financial officer, before being appointed CEO in 2017.