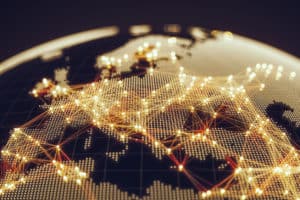 The Aquis Stock Exchange has reached an equivalence agreement with the Frankfurt Stock Exchange's open market, meaning the pair are able to offer dual quotations despite Brexit.
The agreement means that if a company has a quotation on the Aquis Stock Exchange it can also seek a dual quotation on the Frankfurt Stock Exchange effective from 3 May even though the UK and Europe have not been able to reach a decision on equivalence in share trading following the UK's decision to leave the EU.
Frankfurt's open market trades foreign shares, bonds of German and foreign issuers, certificates and warrants, as well as German shares, with a 44,366-strong securities universe tradeable on it.
The partnership will give certain stocks – previously unable to trade outside of the UK following Brexit – access to Europe through German funds that previously only allowed investment in domestic companies.
Aquis Exchange alongside other UK trading venues, including Cboe and LSEG's Turquoise, were forced to open European counterparties prior to the Brexit deadline on 31 December as the reality of no decisive action on equivalence became apparent.
On 4 January, €6 billion in daily share trading volumes moved away from the City to trading venues in European capitals such as Paris and Amsterdam.
"We are very pleased to have reached this agreement with our German counterparts to allow AQSE-quoted stocks to list in Frankfurt and thus gain simpler access to investors beyond the UK," said Alasdair Haynes.
"In return, we look forward to having German stocks come to us to benefit from AQSE's unique liquidity pool, narrow spreads and institutional support base. The strategy at Aquis is to constantly innovate to improve our offering for the sake of issuers, investors, be they institutions or private individuals, and the economy overall."