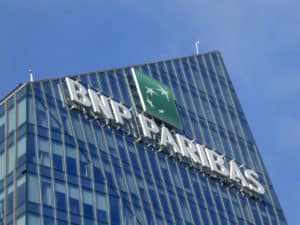 BNP Paribas Securities Services and BlackRock have entered into a partnership via Aladdin Provider to deliver integrated end-to-end investment management capabilities to mutual clients. 
Part of the agreement will see BNP Paribas Securities Services leverage BlackRock's flagship investment operations platform to perform middle-office outsourced services with Aladdin's Investment Book of Record as the trusted source of data.
As custodians realise the value of front-office services being closely integrated alongside the middle- and back-office, the largest players have been making moves to appease their asset manager and owner clients.
Through signing the agreement with BlackRock, BNP Paribas Securities Services adds a renowned investment management and operating platform used by many of the world's most sophisticated investment management firms.
While the bank's asset servicing counterpart, BNY Mellon also penned a front-to-back office data deal with the asset management giant last year, BNP Paribas' deal differs as its middle-office outsourcing team would operate directly from the Aladdin environment of the mutual client. The offering targets mutual clients of the two organisations, with BNP Paribas Asset Management as the first client live through the mode.
"This innovative operating model, which is already live and co-designed with our mutual client, BNP Paribas Asset Management, will combine all the advantages of a leading front-office platform with those of our middle- and back-office capabilities and multi-local expertise," said Arnaud Claudon, head of asset owners and managers client lines at BNP Paribas Securities Services.
"This partnership further highlights our ability to provide full connectivity to our clients, regardless of their choice of front office architecture, and delivers a true front-to-back solution."
The two organisations have an existing relationship with BNP Paribas Securities Services using BlackRock-owned eFront – the end-to-end alternative investment management software and solutions provider – using it to provide asset servicing solutions to alternative asset managers since 2007.
"We are particularly excited to have BNP Paribas Securities Services leverage the Aladdin platform to offer middle-office services, providing our mutual clients with operating model flexibility and transparency," said Sudhir Nair, global head of BlackRock's Aladdin business.
This alliance brings together BNP Paribas Securities Services' middle-office, fund administration and custody services with Aladdin's investment management infrastructure to create a fully integrated end-to-end investment management solution.
The agreement differs to the landmark BNY Mellon deal from April 2019 with less data seemingly going back to BlackRock in the BNP Paribas alliance. At the time BNY Mellon said it planned to deliver real-time trade data, asset prices and cash positions to the 40-50 clients it shares with BlackRock's Aladdin. In addition, BNY Mellon's data insights, accounting and asset servicing tools were integrated to BlackRock's Aladdin.
BlackRock has been vocal in positioning Aladdin as a key component to creating efficiencies with its custody bank partners. The asset manager is also looking to make Aladdin the 'language of portfolios', providing technology to as much of the asset management value chain as possible. BlackRock said recently that despite the disruption from the pandemic, Aladdin processed record trade volumes and several new clients were onboarded.
Furthermore, JP Morgan's record $1 trillion custody deal with BlackRock in January 2017 allowed it to integrate its Athena system with Aladdin, and link up directly to its other custody clients connected to the platform.
The approach to offering a front-to-back solution has differed between providers, with State Street and SS&C opting for the acquisition route as both acquired front-office technology providers.
BNP Paribas' alliance approach enables an open architecture model at a time when asset managers and asset servicers are refining their operating models to streamline operational activities and technology, creating closer integration along the investment lifecycle.
Last year, BNP Paribas Securities Services struck a partnership with Broadridge where it would utilise the tech vendor's portfolio and order management system into a single application, providing front-to-back capabilities for its hedge fund clients.
Last week, Luxembourg-based CACEIS partnered with Amundi, one of Europe's largest asset managers, to create its own front-to-back office service, which was described as a "unique offering to its larger rivals".
The partnership combines Amundi's ALTO portfolio management system with CACEIS' middle- and back-office services to provide a broad front-to-back outsourcing solution covering all the major asset classes. The agreement is not too dissimilar from BNP Paribas' more recent announcement.