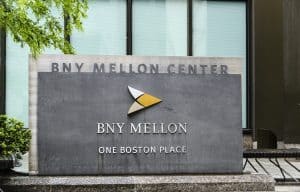 BNY Mellon has executed the first cleared securities lending transaction by an agent lender through Eurex Clearing's Lending CCP platform.
The trade, which was executed by BNY Mellon on behalf of a Dutch-based insurance company client, originally faced Morgan Stanley as the counterparts, and ultimately cleared with Eurex.
Under this structure, a securities loan is negotiated bilaterally with the borrower that will eventually be cleared and settled with Eurex, which then becomes the counterpart to both the lender and borrower. BNY Mellon administers the loan with Eurex Clearing until the securities are returned and the loan is closed.
BNY said the transaction represents a major new route to market for its securities lending clients, who will now have the ability to capitalise on growing market demand to undertake securities finance within a centrally-cleared environment, without the obligations and responsibilities of traditional clearing house membership.
"Central clearing will add capacity to the market and provide new opportunities for our clients. Those clients who choose to participate in this new distribution channel should see increased utilisation and better pricing, all while facing a highly-rated clearing house as counterparty," said James Slater, global head of securities finance, liquidity and segregation, BNY Mellon.
Last year, BNY Mellon helped facilitate the first cleared securities lending trade executed by Dutch pension fund PGGM where it acted as the global custodian.
Eurex Clearing's securities lending CCP aims to reduce counterparty risk exposure and remove the need for multiple credit evaluations for loans in global fixed income securities, equities and exchange traded funds (ETFs).
"This is just the beginning, and we anticipate much greater utilisation of our services going forward as the securities finance industry looks to realise the benefits of a CCP model," added Marcel Naas, managing director of Eurex Clearing's Lending CCP.